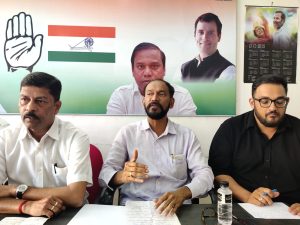 Goemkapronn desk
MAPUSA: In a scathing attack on RSS and BJP, Former Congress Chief of Goa Girish Chodankar said that formers have always worked against the Bahujan Samaj and used them as a vote bank.
He stated that it is in the DNA of the BJP to use the 'caste card' when they are frustrated and when they don't have answers.
Chodankar addressed the press conference in Mapusa and attacked BJP for misleading people, particularly the OBC community, over Rahul Gandhi's issue. Former minister Chandrakant Chodankar, Virendra Shirodkar, Shashank Narvekar, Sanjay Barde, Vishal Volvoikkar, Sandeep Pednekar and others were present.
"Rahul Gandhi has always encouraged OBC, SC and ST. Congress gave OBC reservation in 1992, and subsequently, 27 per cent reservation was given. In the year 2006, Congress gave 27 per cent reservation for higher education to OBC," he pointed out.
He said that there are 32.58 lakhs, of central government staff, out of which only 7 lakhs are OBC and 6.40. lakh of it working in Class C.
"There are 89 secretaries in central government, but none of them is from OBC," he said, adding Congress have a reservation for OBC, ST and SC in local body election; however, in Goa, candidates of Bahujan Samaj had to knock the door of the court to seek justice.
Citing the example of how BJP and RSS are trying to finish the political career of Bahujan Samaj, Chodankar pointed out that the BJP government failed to invite Union Minister Shripad Naik for the opening of projects funded by his ministry. "He was then forced to raise this issue in front of media," he said, adding BJP has failed to work in the interest of OBC.
"The attempt to welcome eight Congress MLAs in BJP is also a conspiracy to finish Bahujan leadership," he said.
"Rahul Gandhi has never said that OBC leaders are 'chor'. Do Nirav Modi and Lalit Modi belong to OBC? Even if they were OBC, then it is not an insult to OBC as Rahul Gandhi has not mentioned anything against the OBC. BJP should prove it before misleading people," he said.
He said that the BJP use the 'caste and religion card' when they are frustrated and when they have no answers. "BJP leaders are trying to mislead people. BJP has always used OBC as a vote bank. They have always hated OBC, SC and ST. I challenge them to show what beneficiary work they have done for OBC in the last nine years," he vociferously said.
He said that Rahul Gandhi had asked a few questions to Prime Minister Narendra Modi, but he failed to answer them.
"Asset of a nation belongs to people. It is not the private property of Modi or the BJP. It is the right of people to question the asset of the nation. Rahul Gandhi had the right to ask this as he was a member of parliament," he said.
He said that Congress never disqualified any member for asking a question in Parliament. "Opposition used to level allegations on Congress and also on Manmohan Singh and Sonia Gandhi. But we never played vendetta politics as we wanted to maintain democracy," Chodankar said.
"During his speech, Rahul Gandhi said that there is Rs. 20,000 crores in shell companies linked to Adani and had asked whose money was it? He had questioned the relationship of Modi with Adani. But the ruling party remained silent over these questions," he said.
"The sentence could have been less than 2 years. But the quantum of sentence was 2 years only because it paved the way for the BJP government to disqualify him," he pointed out while speaking about the defamation case against him.
"By these events, it is evident that BJP and RSS are afraid of Rahul Gandhi. They himself proved it. It is proved that Rahul Gandhi is a powerful leader and raises questions of people without any fear," Chodankar said.
He said that BJP should apologize to Rahul Gandhi if they can't give the answers of the question raised by Rahul Gandhi.
Congress media Cell chairman Amarnath Panjikar said that RSS instructed BJP to speak against Rahul Gandhi.
"They should prove how Rahul Gandhi has insulted OBC. BJP failed to give reservations in dental college and GMC. It has done an injustice to OBC. Why BJP is not speaking on these issues," he questioned.
Comment