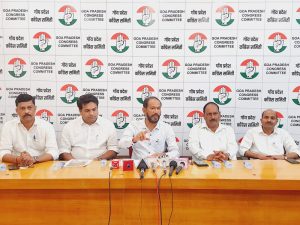 – Police are being used to change political scenario of panchayat
– 2020 Murder case should be probed by CBI – Vikas Prabhudesai
Goemkarponn desk
PANAJI: Alleging that MLAs and Ministers of BJP have adopted 'Super Law' to do things as per their wish, former GPCC President Girish Chodankar on Sunday said that politicians in power, including Porvorim MLA Rohan Khaunte, are using police and officials to create fear of their power among people.
Chodankar on Sunday addressed a press conference in Congress House-Panaji and said that since last many months law and order situation has become worse.
Media Department Chairman Amarnath Panjikar, Porvorim Block President Mario Athaid, Porvorim Congress Leader Vikas Prabhudesai and Ramkrishna Jalmi were present .
"Chief Minister Pramod Sawant has failed to maintain law and order. There is no control on crime against women, murders and accidents. He has failed as home minister," Chodankar said.
He said that BJP MLAs have adopted super law to create fear among people. "They feel that they are superior than the existing law. Because of this common people are suffering against whom false cases are filed. Even police officers help these MLAs to do the illegal things, who actually should protect the interest of people and not the interest of politicians," Chodankar said.
"Even advocates can't take the case of the common person, which is against the interest of ;Porvorim MLA. Senior counsel Surendra Desai said in open court that he too can be assaulted. He said that even advocates and judges are not safe. This is because the Chief Minister is protecting his colleagues," Chodankar said, adding even false cases are registered against lawyers.
"Does Khaunte want to make Porvorim a crime capital? Such a situation was never before. Now attacks are taking place on locals of Porvorim. He should establish peace and not create fear among people," he said.
Chodankar said that if any person goes to lodge complaint stating his property is being encroached, even then he doesn't get justice.
He recalled that in 2020 one social activist from Salvador Do Mundo was murder by burning in broad daylight. "Video of this incident which was shot by a lady was pressurised by police to delete it and also harassed her to know the names of persons with whom she shared the video. Police should not work in destruction of evidences," he said.
Citing an example, Chodankar said that a top police officer from Porvorim is involved in threatening Sarpanch to work in the interest of local MLA, otherwise she will be booked under some cases.
Currently one audio clip of a top police officer from Porvorim has gone viral, who is threatening BJP Sarpanch Roshani Sawaikar and her husband Rajesh Sawaikar to do things how Rohan Khaunte wants. They are being pressured to change the political power in Panchayat, though this local body is with BJP," he said.
Chodankar said that as the couple didn't fall prey to pressure tactics, one Sunil Desai from Gujarat lodged a complaint against them. "This Desai seems to be telling people that he can control the Chief Minister and Rohan Khaunte easily. See how the things are going on where a person from Gujarat is also using super law," he said.
"DGP should inquire into these both matter and take action against his subordinates, who work on behest of Ministers and harass common man," Chodankar demanded.
"I request Rohan Khaunte not to make Porvorim as a criminal capital as people have now started to say that it has become jungle Raj. He should work towards bringing peace and should not impose his own laws on others," he said.
Mario Athaid said that illegalities in Porvorim taken place under the protection of BJP government. "People don't speak against these issue fearing threat to their life," he said.
Vikas Prabhudesai said "I had said that Porvorim has become hub of all crimes. Rohan Khaunte had demanded CBi investigation in 2020 murder case, hence I request Chief Minister to listen to his colleague," Prabhudesai said.
Comment