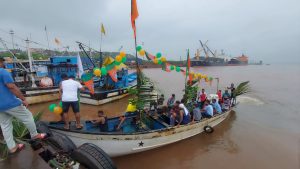 *Jose Philip D'Souza demands enquiry from Vasco MLA Krishna Salkar on the incident
Goemkarponn Desk
VASCO: The presence of a boat with BJP Flags during the st Peter's feast celebrated at Kharewado has triggered a political war in Vasco.
Goa Fishing Boat Owners Association President Jose Philip D'Souza has said that the incident was intended to create communal disharmony and has requested Vasco MLA Krishna Salkar to carry an enquiry in the incident.
"We were celebrating a feast of St Peter where we call a priest to bless the sea and this is a religious function. This is our tradition for hundreds of years but this is for a first time when some people tried to create unrest and got a boat with BJP Flags for the function.
This is a religious function and not a political one and there should not be any political involvement in such festivals which have sentiments and emotions of Fishermen attached to it. I am a president of a national party and I head the NCP in Goa but I have never involved my party in fishermen activities.
We want to know who got the BJP decorated boat and what was the intentions. We have seen riots in other states that started with such small incidents and we want to know if the BJP intended to creat unrest between fishermen and creat fights here.
I will take the issue up with the CM Dr Pramod Sawant and I request Vasco BJP MLA Krishna Salkar to look in the matter and carry out an enquiry. This incident has sent a wrong signal and cannot be tolerated where BJP will interfere in our traditional religious functions and we will take this issue very seriously " said DSouza
Comment