SURAJ NANDREKAR/
Goemkarponn
CALANGUTE: Club X, which is in the eye of the storm due to the involvement of its owner Manoj Singh in a brutal stabbing of Calangute youth, has been operating sans any licences.
Ravi Shirodkar was stabbed mercilessly by Tarzan, Ludu, and his gang in the presence of Manoj Singh is in critical condition and fighting for life after multiple surgeries at Goa Medical College.
However, sources now inform Goemkarponn that at Club X, where all the accused partied before the crime was committed, they were provided with five girls for entertainment.
"The Club X is operating without any licences from Calangute panchayat and Excise or FDA," sources said.
When Goemkarponn questioned Calangute PI Dattaguru Sawant, he said they had written to Calangute Panchayat on whether the business has valid licences.
"We have asked Calangute panchayat to verify about licences, and if not, the place has to be closed down," he said.
On Anjuna Polices' claims about prostitution, he said they are looking into it.
"We are investigating the matter and need further evidence from Anjuna police," he said.
Calangute Village Panchayat Sarpanch Joseph Sequeira, though, said that he has not received any letter from Calangute; he is initiating action on his own.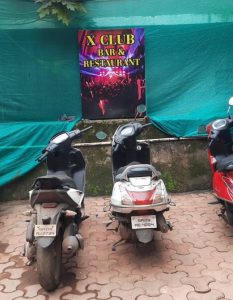 "I personally went to Club X and took photographs and enquired from the people there. We have been told that the place has been rented out by Ligia Proencia," he said.
Sequeira said the panchayat would issue a show cause notice to the owner of the property today itself.
"After that, we will do the inspection of the property, see if they have papers and then take a decision in the panchayat meeting," he said.
Sequeira stated that he would not allow any such illegalities in the panchayat jurisdiction.
Manoj Singh, who runs the Club X bar & restaurant, has been absconding since the day of the crime.
SDPO Mapusa Jivba Dalvi has said that though Manoj has evaded arrested, police are confident of arresting him soon.
"Our teams have launched a manhunt for Manoj Singh. So far, we have already arrested 13 persons," he said.
Comment