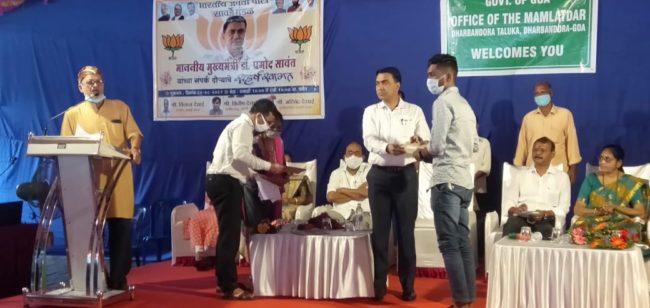 Says they should either welcome IIT, Forensic Institution or National School of Law or development of Dharbandora
Says procedure to re-start mining would commence in three months
Goemakrponn desk
PONDA: Chief Minister Dr Pramod Sawant offered three projects to Dharbandora – the IIT Goa, the Forensic Institution or National School of Law and urged the locals to welcome at least one of the three projects.
"For the development of Dharbandora, locals should welcome anyone among the three educational Projects IIT, Forensic Institution or National School of Law proposed by govt," Sawant said during his visit to the taluka on Friday. He said that the govt is yet to finalise these projects.
He further said the procedure to start mining activities, including auctioning leases to extract 20 million tone ore, would begin three months.
Chief Minister Pramod Sawant distributed financial aid to flood-affected people in Dharbandora taluka.
Sawant said the government has formed a Mining Corporation for the welfare of mining dependent people, who are either employed in mining jobs or engaged in truck transportation, extraction activities through machinaries or any related works.
Further, on the COVID19 front, he said the government has started providing relief of Rs 2 lakh to relatives of the patients who died due to the Covid pandemic.
"No other state has begun, and those who had applied will get it before Ganesh Festival," he said.
He urged people to come forward and apply for compensation.
Comment