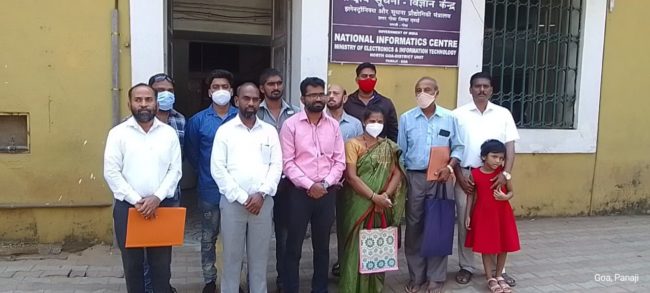 Goemkarponn desk
PANAJI: In a major setback to the protesting Mopa villagers, the North Goa District Collector declined to stop the ongoing work of the link road connecting the upcoming Greenfield International Airport stating that the work is done following legal procedure.
The affected farmers from Mopa were called in for a meeting at the North Goa Collectorate office in the capital for a round of discussion.
"The government is going ahead saying that the work cannot be stopped as it based on a central act. This is not done and we will be discussing and approching the High Court of Bombay at Goa," said Nazgar-Warkhand Sarpanch Sanjay Tulaskar after meeting collector.
He further said that the North Collector will be giving a detailed reply to the notice of the Panchayat. He said that the situation has become volatile and a huge police force has been deployed at the work site. Locals are not allowed anywhere close.
The farmers said that the road is being built without having obtained necessary permissions and that the process of acquiring land for the road was fast tracked. Also, the objections raised by them were thrown into the dust bins.
The farmers said that the government officials misusing their position to abuse and suppress the people, defying the panchayat order and working for their own benefits should be removed from their positions. Indiscriminate destruction of natural resources is being done.
"Also the projects which are coming up in surrounding villages, like the Bailpar pump house project are all connected to the Mopa airport," they said.
Taking cognisance of objection raised by Mopa link road affected farmers, the Warkhand Nagzar Village Panchayat last week issued show cause cum stop work notice to the contractor engaged in the work.
In the notice, the panchayat has served a seven-day deadline to furnish copies of permission/licences of all the relevant documents such as Environment Impact Assessment (EIA) report, Forest Clearance, sanad of the property received for the ongoing development works failing which action as contemplated under sub-Sections 4 and 66 will be initiated under the provisions of The Goa Panchayat Raj Act, 1994 and the relevant law in force.
Comment