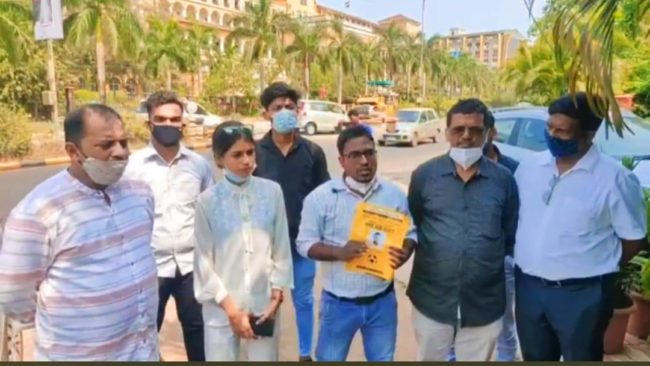 Goemkarponn Desk
Panaji: Citizen choice panel for Margao Municipal Council and Ami Quepemkar for Quepem Municipal Council has term Congress, BJP and Goa Forward Party relation as Kazar Sompeponnachem – Marriage of Convenience. Hitting on Vijay Sardessai and Digambar Kamat who are trying to fool the people of Fatorda and Margao. Adv. Seoula said that we at Citizens Panel want to give the people of Margao and Quepem a next level municipal council by ensuring non corrupt and clean governance. Further she said give us a chance to show that we can and we are they only change and we shall reduce your house tax by 50% and provide a single window system for trade license.
Aam Aadmi Party which has fielded 11 candidates under the banner of Ami Quepemkar for the Quepem Municipal Council elections sincerely appealed to the voters to bring about a change as both the BJP and the Congress have proven to be abject failures in changing the face of Quepem for so many years.
Sunita Pereira who is contesting from ward No. 11 lamented that her ward looks the same for so many years and there has been no development whatsoever even though their MLA defected from the Congress to the BJP.
"We have no proper roads and there is no drinking water available besides the fact that most youth are unemployed," she said while pointing out that people from her area have to walk 4 kms to visit a doctor or even go to school.
She said the BJP and the Congress are one and the same and there is no difference between them and that is the reason why people are suffering so much and asked the people to support their panel as they are committed to improve the status of Quepem.
"If our panel is elected then within 100 days of taking over the Quepem Municipal Council we shall reduce the trade tax and house tax by 50 per cent besides also abolishing the garbage tax," she said.
Student of Political Science Benita Fernandes is contesting from ward No. 9 expressed her disgust at the manner in which the municipality works. "Actually work that can be done in one day is usually done in one week and people are simply made to run here and there," she said.
She said people from different walks of life have come together under the Ami Quepemkar panel and pointed out that while she is a student they also have a former sea farer and a self employed person on the panel.
"With our own experience we know what the common man wants and can fulfill their demand," she said while asking the people to vote for them.
Covin Colaco who is contesting from ward No. 7 said a person who has been the councilor for 15 years and even been the chairperson of the council has not done anything in his ward and appealed to people to discard the old face and vote for a young and dynamic person like him.
"Now with elections round the corner he has built a place for people to sit out which is developed right next to a mosquito breeding place and people sitting there are likely to be hospitalized due to vector borne diseases," he said.
Selvina Fernandes who is better known as Shalini is the candidate from ward No. 8 and pointed out that corruption is rampant in Quepem and has percolated to the ward level. "Candidates are now distributing things to people and my question to them is where were you when we were suffering due to the lockdown and had to live without provisions," she said.
She said she was offered various things to withdraw from the elections. "I refused their offer and am contesting because I want to bring about a change," she said while appealing to the people to vote for her and reject all other candidates in her ward.
Meanwhile at Margao Adv Seoula Vas who is the citizens choice from ward No. 3 said the other candidates in her ward particularly the former councilor has only scams and corruption linked with them and said she has documentary proof to establish this.
She ridiculed the alliance between the Congress and Goa Forward Party in Margao and said these sort or arrangements result in splitting the council and the councillors will only concentrate about their area and not the whole council as one.
While asserting that cleaning gutters cannot be claimed to be word done by a councilor she said a councilor has to bring about development and people living there have to be self reliant.
Royston Gomes who is the candidate from ward No. 7 said if their panel members are elected they would reduce the house tax by 50 per cent besides setting up a single window system for payment of all thanks.
Royston who belongs to the ST community is contesting from a ward that is in general category and asked the people to vote for him because he is confident of his victory and that is the reason why he is not contesting from a reserved ward.
Comment