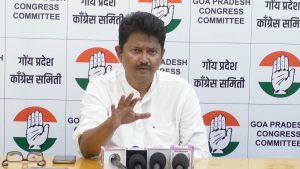 *Urges Govt, GFA to protect ecosystem
Goemkarponn Desk
PANAJI: Expressing concern over reports of Goa's iconic and oldest club 'Salgaocar Football club' shutting its activities, Congress leader Elvis Gomes has urged the government as well as Goa Football Association to take steps to protect 'football culture' of the state.
Gomes, addressing a press conference, said that reports of 'Salgaocar Football club' withdrawal from the professional league (senior division) and playing under 18 and 20 were disturbing to the football fraternity and fans in the state and Country.
"It is one of the biggest setbacks for Goa as we were known for such great clubs. During the 60th anniversary celebrations of SFC, I had a feeling that better things were in store for Goan football . But with this decision, I feel something has gone wrong. There may be several reasons for getting our football ecosystem spoiled. Government and GFA must intervene " he said.
He further said that football has given life to many, who had come from poor backgrounds. "If clubs like Salgaocar close their activities, our aspiring footballers will not get opportunities," he said.
Gomes said that the BJP government was busy in only event managements and had overlooked problems faced by football clubs . "We need to look at why this is happening. We need to protect our culture. If tomorrow Dempo SC and Sporting Clube de Goa also decide like wise it will make football a thing of the past. The Goa Football Association has invited open bids for clubs to play directly in professional league. I don't know whether they are trying to invite clubs from outside state into Goa" said Gomes cautioning local clubs to beware of such a move.
"I urge GFA members to convene a general body meeting and try to know what is happening. Football ecosystem should be protected," he said.
He said that football legends Padma Shri Brahmanand Sankhwalkar and Arjuna awardee Bruno Coutinho had played for Salgaocar FC which helped them make it big in football in not just Goa but the nation as well.
"How our budding talent will get an opportunity to play for clubs if prominent clubs shuts the activities," he questioned.
"Seems our ethos are on verge of getting finished. BJP has no policy to provide assistance to football clubs with just one club getting assistance from the government running into crores of rupees. We all need to help protect our culture of football and hence I urge GFA members to take a call on this," he said
Comment