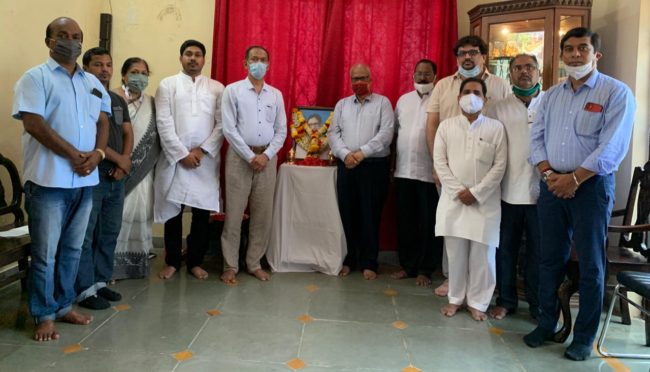 Goemkarponn Desk
Margao – The entire tenure of former Chief Minister of Goa & former Defence Minister of India late Manohar Parrikar was full of Corrupt Administration, U-Turns and Politics of Convenience. It is now crystal clear that Aam Aadmi Party which wants to carry forward his legacy is B Team of the BJP. Cracks & Potholes on Atal Sethu is living example of corrupt legacy of late Manohar Parrikar charged Goa Pradesh Mahila Congress interim President Beena Shantaram Naik.
Reacting sharply to the statement made by Deputy Chief Minister of Delhi Manish Sisodia stating that they want to carry forward the so-called vision of development of late Manohar Parrikar, Mahila Congress President hit back at Aam Aadmi Party.
Today, on the 75th birth anniversary of my husband late Shantaram Naik who always remained committed to the ideology, principles & ethics in politics & remained loyal to Congress Party till his last breath , I urge Manish Sisodia & the Aam Aadmi Party to go through the Corruption Cases & Irregularities which took place during former CM Parrikars tenure. Goa Lokayukta gave orders to the current BJP Government of investigating 21 cases of irregularities, most of which are during late Manohar Parrikars tenure, Beena Naik stated.
"The much hyped "Atal Sethu" developed cracks after few months of its opening to traffic. Two wings of the same bridge are yet to be commissioned," pointed Beena Naik.
She added that Cyber Age Scam, Beach Cleaning Scam, Panjim Parking Fee Collection Scam, Smart City Scam, Miramar-Dona Paula Road Scam, IFFI Scam, Spaces Building Rent Scam, SEZ Promoters Interest Payment Scam, Garbage Collection Scam and various other scams happened during late Manohar Parrikars regime.
"As Defence Minister of India late Manohar Parrikar continued with the corrupt practices which resulted in grand Rafale Deal scam," said Beena Naik.
Late Manohar Parrikar was given titles of "Father of Liers" and "Dalal" by none other than the people who were closely associated with ,him stated Beena Naik.
"Late Manohar Parrikar also has the rare distinction of being one of the best U-Turn Masters who did flip-flops on his own decisions and annoucements for his selfish political convenience. The best example is of Medium of Instructions and his initial claim of Rs.35 thousand crore Mining Scam which he himself denied later," claimed Beena Naik.
She said the Aam Aadmi Party must realise that it was Parrikar who stopped Mining in Goa with an ulterior motive of handing over the mines to Crony Club of Prime Minister Narendra Modi. People of Goa will soon realise this.
"I am happy that just two days after a local BJP functionary from Margao openly admitted that Adv. Pratima Coutinho had joined BJP via AAP, today Deputy CM of Delhi has come clear that AAP is nothing but B Team of BJP which wants to carry forward the agenda of Late Manohar Parrikar and BJP," Beena Naik said.
Comment