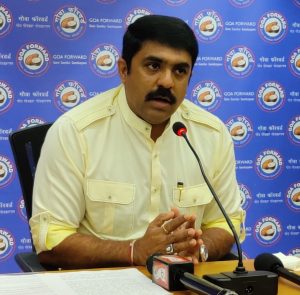 Goemkarponn Desk
PANAJI: Reacting to Goa DGP's tweet, the Goa Forward President Vijai Sardesai today issued an advise to Jaspal Singh IPS to stay away from criticising media and opposition politicians.
"Goemkars are not scared of anyone. DGP should look into his own house which is full of corruption. DGP and Goa Police are taking offence for every criticism of police," said Vijai
He further said that NCB has been seizing drugs in Goa while stating that Goa Police has failed to act against drugs in the state
"If these are pointed out then the DGP is hurt. This is not a unsolicited advice, I am an MLA.
I have not won the election on postal ballot votes. I am a Goan," he added
Vijai further said that he is not scared of DGP. He also termed the DGP as a troll army on 'X'
"I don't get scared of DGP. He DGP now become a troll army. I can give a list of policemen accepting bribes," he added
Sardesai said that for every action there is an equal and opposite reaction and the DGP should think of this.
"I have a reason to criticise the DGP, has he given the extra staff?" questioned Vijai
He also said that robbery and beggar menace in Fatorda has increased.
Comment