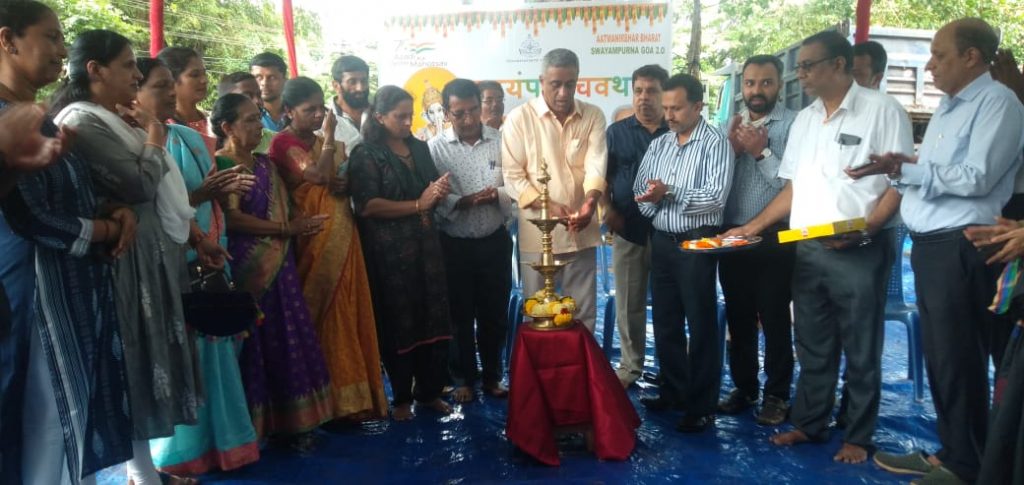 PONDA: Swaypurna Chaturthi Bazaar the special initiative of State government was inaugurated at Rathamal Kapileshwarim Kavlem today at hands of Power Minister Sudin Dhavlikar while Water Resource Subash Shirodkar inaugurated it at Shiroda today morning while another Chovot Bazaar is scheduled to be opened at Airport Road at Ponda Market at hands of Agriculture Minister Ravi Naik.
At a function held at Swaypurna Chovot Bazaar, present on the dais were Kavlem Panchayat Administrator Viba Kavlekar, ZP Ganapat Naik, and in charge Gaurish Kuttikar Swaypurna Mitra of various Panchayats, former Sarpanch Rajesh Kavlekar and newly elected Panchmembers of Kavlem Panchayat were present.
Speaking on occasion Power Minister Sudin Dhavlikar urged the villagers of Various Panchayats, including Kavlem, Marcaim, Durbhat, Wadi Talavalim, and Bandora Panchayats, to support the local vendors by purchasing various goods, agricultural fruits necessary for Chovot including Matoli items from local vendors.
He said taking inspiration from PM Narendra Modi's Atmanirbhar Bharat, Goa CM Pramod Sawant has started this initiative in various places in Goa to encourage local vendors for Atmanirbhar Bharat.
A large number of villagers were present for the function.
Comment