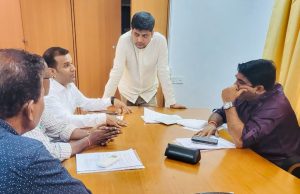 While Congress President Amit Patkar takes the Mining delegation to meet another Party's president, he skips meet of the delegation with LoP.
Goemkarponn desk
PANAJI: The differences between Goa Pradesh Congress Committee president Amit Patkar and Leader of Opposition Yuri Alemao are wide open.
On Wednesday, Goemkarponn broke the story of how President Patkar ignored his own party's Leader of Opposition, Yuri Alemao and took the retrenched mining workers delegation to Goa Forward President Vijai Sardesai to take up the issue on the floor of the House when the Assembly session begins next week.
The issue had not gone well with the Congress workers, who termed this as an insult to the Congress Legislative Party leader.

What is even more shocking now is that the same mining retrenched workers delegation met the Leader of Opposition Yuri Alemao, and Amit Patkar is missing from the picture.
A Congress worker, refusing to be named, said, "This shows all is not well between the two."
"Patkar trusts Goa Forward's Vijai Sardesai to take up the issue and not his own party's MLAs – Yuri Alemao, Carlos Alvares Fereira and Altone D'Costa," he said.
Another Congress leader said they agree the Opposition has to be united but cannot hand over the advantage to another party which has just one MLA.
"Amit Patkar needs to understand that the Congress is the principal Opposition party with three MLAs. As party president, he has to plan a strategy for his party to corner the ruling benches on various issues," he said.
He also said if the Congress president was so concerned about mining workers, why was he absent when the delegation met the Leader of the Opposition?
"This shows the biased attitude of the Congress president, who distrusts his MLAs. Due to this childish attitude, the eight MLAs may have deserted the party," he charged.
Another senior leader of the party said the Congress president needs to take up the strong issue like the mining workers and gain public trust.
"…but here we have a president who simply does not believe in his team. He needs to understand he has to take up important issues and get public support," stated the senior Leader.
Spekaing to Goemkarponn on Wednesday, Amit Patkar rejected the allegations, saying he did not intend to insult Alemao or LoP.
"The mining delegation first came to LoP, and then they also wanted to meet Vijai and requested me to accompany them. That's it. I had requested not to use the picture when he sent it to media, and if required, he could click another pic (without me) and send it. But they sent the same pic with me," he explained.
Patkar said he went there as Vijai sat next to the LoPs cabin.
Comment