Goemakrponn desk
PANAJI: Digital methods for Crop Survey to be put in place soon, to survey the loss suffered by the farmers during the flood, drought, etc. The technology is developed now, and farmers can themselves click photos of the field/loss suffered, upload it on the app.
This was decided at a review meeting by Union Minister of State for Agriculture and Farmers Welfare Ms Shobha Karandlaje.
She reviewed various Central sector schemes and centrally Sponsored schemes in Goa.
Dy CM Chandrakant Kavlekar, Heads of various agriculture-related departments in Govt of Goa and Govt of India, also attended the meeting.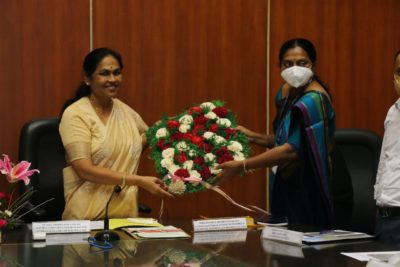 The Minister was told that the total cropped area in the state of Goa is 144381 Hectares, and eighty per cent of farmers are small and marginal farmers. The focus points for agriculture in the state of Goa are PM Kisan Samman Scheme, Kisan Credit Card, Farmer Producer Organisation and Agriculture Infrastructure Fund.
The Minister assured that the tenant issue under PM Kisan Samman Schemes would be resolved at the earliest.
Besides, the Agriculture Infrastructure fund, which provides a long term debt financing facility for investment in viable projects for post-harvest management Infrastructure and community farming assets through interest subvention and financial support, should be taken up in a better way in the state of Goa. Farmer Produce Organisations and individuals, among others, can benefit under AIF, and Goa should make maximum use of this fund.
The Minister also suggested that Goa may put digital technologies into use to provide updated crop production-related know-how, arrange critical agricultural inputs, primary soil and seed testing facilities, and arrange interface with the public and private sector. MGNREGA fund also may be put to good use.
It was decided that Digital methods for Crop Survey to be put in place soon to survey the loss suffered by the farmers during the flood, drought, etc. The technology is developed now, and farmers can themselves click photos of the field/loss suffered, upload it on the app.
The Minister mentioned the farmers from Karnataka and Gujarat already using these digital methods. Once the data is uploaded, expert panel members can quickly review the situation and take necessary action. Minister also suggested that 'Swayampurna Mitra' can also be used for crop surveys.
The Minister also mentioned that the farmers should get good and quality seeds.
"All the seed packets entering the state of Goa should be authenticated using a Quick Response (QR) Code system. We should see that the seeds should bear QR Code and contain information such as quality and Licence No. Place. Etc, which gives the end to end data for seeds," she said.
She said the Cultivation of sugarcane and jaggery production may be increased as there is a big demand for jaggery for export. Sugarcane can be converted into ethanol, and last year 9.5 tonnes of sugarcane was converted into ethanol, the Minister said.
The Minister also encouraged an Integrated supply chain of fruits and vegetables, the funds for which will be provided over and above that is available in the Mission for Integrated Development of Horticulture(MIDH). Chain System systems are to be adopted by all states in the Country and become Atmanirbhar.
"Price of agricultural mechanisms should be the same in every state. It should not differ in different places in the Country. The Government of India has instructed dealers and manufacturers to put the same price list across the Country," she said.
The Minister said the three products, Milk, Vegetables and Fodder, "we should become self-sufficient in these three products in the next three years, so accordingly we should strive towards Atamanirbhar."
Various aspects of Swayampurna Goa and Atmanirbhar Bharat were discussed.Under Swayampurna Goa meeting are held at Panchayat level every Saturday and on Sundays where all government schemes are explained, beneficiaries are selected, applications are obtained and forwarded to the respective departments, and necessary follow up is done.
"Swayampurna Mitr" a senior government employee residing in the village, is appointed to coordinate, monitor, and ensure that every benefit of the government scheme reaches the needy in the village.
Minister assures support to Parra
farmer, who won PM's accolades
During the review meeting, the Minister honoured Smt Darshana Pednekar, at Goa Secretariat, who received accolades from the Hon'ble Prime Minister for her modern agricultural practices.
Darshana Pednekar has four acres of farmland in Parra, Goa, on which she grows paddy and other thirty-five variety horticulture crops.
In addition, she is an entrepreneur who started processing unsold coconuts during lockdown for oil extraction. She was given training on modern farming by ICAR Goa.
Minister assured all support for Darshana Pednekar in the future and hailed her as a role model for women empowerment in the Country.
The Minister also expressed her happiness that Govt of Goa, CM Dr Pramod Sawant and Agriculture minister Shri Chandrakant Kavlekar are doing amazing work for the better implementation of the farmer's welfare in Goa, which is framed through popular pro farmers schemes by Govt of India led by Honourable Prime Minister Shri Narendra Modi.
Comment