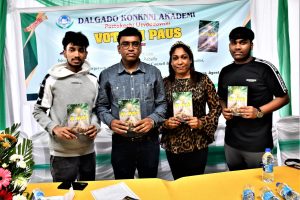 Goemkapronn desk
CANACONA: Out of only a few, Canacona's Adrian Fernandes has come out boldly to support and promote Romi Konkani, which otherwise needs all-round push to develop our 'Maim-Bhas' , stated Canacona Municipal Council 2-time former Chairperson and present Councillor Simon Rebello.
'Vot ani Paus,' a book on Konkani poems by Adrian Fernandes was released by Simon Rebello, former chairperson of Canacona Municipal Council and sitting councillor at Holy Cross Chapel, Ponsulem-Canacona on August 18.
CMC Councillor Nadin Fernandes, Canacona BJP Youth President Vishal Dessai, senior writer Manuel Fernandes, DKA President Celso Fernandes, DKA Vice-President William Fernandes, DKA Secretary Fr Myron Barreto, DKA Ex-President Vincy Quadros and Adrian Fernandes were present on the dais.
Adrian Fernandes, who hails from Ponnsulem-Canacona, writes stories and poems for various magazines. He has also released a Konkani DVD titled 'Jivit Tachem', a collection of Konkani video songs.
In his address, the chief guest, Simon Rebello appealed to people to support Romi Konkani to protect Goan identity.
DKA Secretary Fr Myron Barreto welcomed the gathering and said the DKA has been inspiring writers to promote Romi Konkani literature.
Vincy Quadros said the book is a collection of 90 poems centred on the theme nature, mother, women, country, happiness and sadness.
"The writer raises a lot of questions in his poems based on society, morality, politics and family. In some of the poems, the writer himself gives the answer and at times makes the readers to find the answer."
Adrian Fernandes thanked all those who helped him to blossom as a writer and requested everyone to put in efforts to speak and write in Konkani.
DKA President Celso Fernandes and DKA Vice-President William Fernandes also spoke on the occasion.
Comment