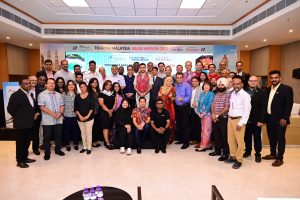 Goemkarponn desk
PANAJI: Tourism Malaysia is eager to promote bilateral relations between India and Malaysia on the tourism and cultural sectors and will explore opportunities of twin cities and sister cities between Goa and Melaka province of Malaysia owing to their cultural and heritage similarities.
Speaking at an interactive session with the media on Wednesday, Consul General of Malaysia in Mumbai, Ahmad Zuwairi Yusoff said that they were eager to take forward the good relations between India and Goa.
"Goa is one of the cities (where) we aim to get a market for incoming tourists to Malaysia. Malaysia and India are in good bilateral relations and one of them is tourism and we don't just want to stop there. We want to improve it more. Goa of course is on our mind — we need to explore more. It is something we want to expand, we look forward to expanding," he said.
"We want to learn from Goa, which is also a popular tourist destination. A lot of people in Malaysia are familiar with Goa due to Afonso de Albuquerque who first came to Goa and then conquered Malacca (today's Melaka). We want to explore cultural partnerships and exchanges between the two places. We hope to promote culturally the two cities as well as through direct flights between the two cities," Mohammed Amirul Rizal B Abdul Rahim, the Senior Deputy Director of International Promotion Division of Tourism Malaysia, who was in Goa as part of a promotional tour, said.
According to Amirul Abdul Rahim, Malaysia which received 735,000 Indian tourists in 2019 is hopeful of crossing 500,000 Indian tourists this year for the first time after the pandemic.
"We are confident that we will cross this figure owing to the overwhelming response we have got. We are here to promote Malaysia as a destination among Indian tourists," he added.
Tourism Malaysia continues with its second roadshow to India this year across six 2nd tier cities from 14th to 26th August 2023. The roadshow kicks off in the city of Amritsar followed by Lucknow, Nagpur, Pune, Goa, and Cochin.
Tourism Malaysia Mumbai office head Noriah Jaafar, who was also present, pledged to extend all help to people from Goa who wish to visit Malaysia via the Mumbai office.
Headed by the Deputy Minister of Tourism, Arts and Culture, YB Tuan Khairul Firdaus Akbar Khan, the roadshow is participated by 45 local organizations comprising hotels and resorts, travel agents, tourism product owners, visa consultants, Malaysia-based airlines, and representatives from state tourism boards.
Malaysia aims to further expand its promotional efforts to the country through this second series.
The two-week-long roadshow is packed with networking programmes including business-to-business (B2B) sessions, seminars, and emphasized promotions on niche segments such as wedding, golfing, filming, and shopping. In addition, the roadshow also serves as a platform for Tourism Malaysia to highlight the next anticipated Visit Malaysia Year which is scheduled to take place in 2026
This year, Malaysia is currently targeting 16.1 million international tourist arrivals with RM49.3 billion in tourism receipts. India remains to be among the top countries to contribute tourist arrivals to Malaysia. In 2022, Malaysia welcomed a total of 324,548 Indian tourists, while in the first quarter of 2023, Malaysia received as many as 164,566
Indian tourists compared to 13,370 in the same period last year. Currently, there are 158 flights with 30,032 seats offered weekly between India and Malaysia through Malaysia Airlines, Batik Air, AirAsia and IndiGo. Indian tourists can now apply for Malaysia's eVISA Multiple Entry Visa (MEV) through https://malaysiavisa.imi.gov.my/evisa/evisa.jsp.
Comment