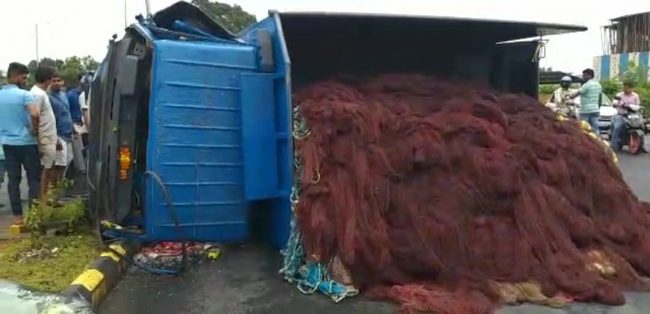 Goemkarponn desk
CANACONA – A Vasco bound Fishing-Net loaded truck hits a Lamp-Post on the divider of Manohar Parrikar Canacona Bypass Road (MPCBR), injures an Electrician working on the Street Light Lamp Post, and turns turtle on Monday.
According to the Driver of GA-06 T- 2773 Ramesh Rathod r/o Kodibhag, Karwar, he was coming from Karwar with a load of fishing net and proceeding to Vasco, when on reaching Kindlebhag-Tarir junction, the truck wheels suddenly swirled and with the jerk he lost control of the vehicle.
The truck climbed on the MPCBR road divider and hit a Lamp-Post before the vehicle turned turtle and fell on the one side of the Lane.
While the streetlight lamp post got nearly uprooted, an unknown electrician reportedly working on the lamp post got seriously hurt.
While policemen reached the accident spot, locals who assembled at the spot complained of the non-arrival of an ambulance; even after more than 30 minutes of intimation, locals, as well as the police, assisted the injured to be shifted to the CHC hospital located at a distance of about 3 km. Canacona police also conducted the panchanama at the site.
Locals blaming the uneven and bumpy road parapet, and also deep Curves/Turns on the 4-Lane MPCBR which is a part of NH-66 road, says previously two such mishaps in the same area had not moved the authorities and situation continue to remain the same.
Comment