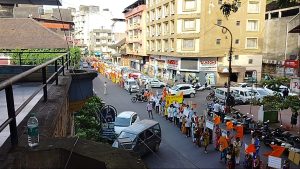 Goemkapronn desk
PANAJI: The 'Hindu Jan Sangharsha Rally' held in Panaji on Saturday demanded stringent laws against "Love Jihad" and Conversion of faith in Goa. This Rally was organized by all Hindu organizations under the banner of 'Hindu Rashtra-Jagruti Andolan'.
The 'Hindu Jan Sangharsh Rally' started from Azad Maidan in Panaji with_Dharmadhawaj pujan_. Subsequently, the rally continued on M.G. Road, Don Bosco Circle, Old Education Department, Cafe Aram and finally concluded at Azad Maidan. At this time, the National Spokesperson of Hindu Janajagruti Samiti, Shri. Ramesh Shinde addressed the audience.
The Union Government has informed the Rajya Sabha that 1,471 women and 79 children have gone missing from Goa during the 2-year period from 2019 to 2021. Also, the Goa Government has said that 829 women and children have gone missing from Goa in the last three and a half years and 695 of them have been found, while 134 are still missing. This is a serious incident. The Home ministry of Goa Government should appoint an independent inquiry committee or team to investigate whether there is any conspiracy behind the disappearance of women and girls in Goa, or whether 'love jihad' is instrumental in it. The 'Anti-Love Jihad Act' and the 'Prohibition of Conversion Act' should be implemented in Goa at the earliest. A special branch of the police should be established on the lines of the Uttar Pradesh government to deal with or investigate cases of 'love jihad'. In such cases, crimes should be registered under the name of 'Love Jihad'. The government should also investigate the foreign funding for 'Love Jihad', trafficking of young women and their use for terrorist activities and strict action should be taken against the culprits found in it. Madrassas and mosques should be banned immediately if they are found to be involved in love jihad cases. The government should take the initiative to create awareness about love jihad. The Hindu Janajagruti Samiti will give all possible help to the government for this. Also Chief Minister of Goa, Dr. Pramod Sawant has earlier said that conversion in Goa will not be tolerated by the Goa government. Goa government should enact anti-conversion law to eradicate the evils of conversion. Mr. Satyavijay Naik and Mrs. Shubhangi Gawde compered the program. Organizations participating in the rally were Hindu Raksha Vahini Sangh-Goa, Rashtriya Swayamsevak Sangh, Hindu Raksha Mahaaghadi, Goa Suraksha Manch, Rashtriya Bajrang Dal, Karni Sena, Rashtriya Hindu Vahini, Gayatri Parivar, Shiv Pratishthan Hindustan, Gomantak Mandir Mahasangh, Hindu Janajagruti Samiti, Sanatan Sanstha, Ranragini.
Comment