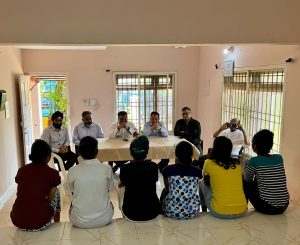 Goemkarponn desk
PANAJI: Excelpoint, a leading electronic component supplier, is proud to announce that its Group CEO, Mr Albert Phuay, paid a special visit to the Bethesda Life Centre on 17th May 2023 to distribute essential school supplies among 80 children. The donation included school bags, tiffin boxes, and water bottles, aiming to support the education and well-being of underprivileged children in our community.
The Bethesda Life Centre is a non-profit organisation dedicated to providing care, support, and educational opportunities to children from disadvantaged backgrounds. Excelpoint has been a long-standing supporter of the Bethesda Life Centre's initiatives and is committed to making a positive impact on the lives of children in need.
During his visit, Mr. Albert Phuay spent quality time with the children, engaging in various activities and inspiring conversations. His presence brought joy and encouragement to the young hearts, emphasising the importance of education and self-belief.
"We believe that education is the key to unlocking opportunities and creating a better future," said Mr. Albert Phuay, Group CEO of Excelpoint. "At Excelpoint, we are committed to empowering communities and nurturing the next generation. It is a privilege to contribute to the Bethesda Life Centre's noble mission and provide these children with the necessary tools to pursue their education."
The donation of school bags, tiffin boxes, and water bottles aims to alleviate the financial burden faced by families and ensure that these children have the necessary supplies for their educational journey. By providing them with these essential items, Excelpoint and Mr. Albert Phuay aim to foster a conducive learning environment and build a sense of confidence and enthusiasm among the children.
Excelpoint remains committed to corporate social responsibility, actively engaging in various philanthropic initiatives to create a meaningful difference in society. The company believes in leveraging its resources and expertise to uplift communities and provide opportunities for a brighter future.
Comment