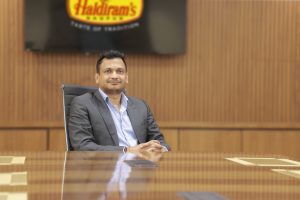 · Minute Khana range of preservative-free Indian snacks, curries, desserts, and bread to be available in all major supermarkets and modern retail outlets across India.
· Minute Khana represents the widest range of delicious and wholesome ethnic RTE and frozen food range in the country
Goemkarponn desk
Panaji: Haldiram's Nagpur, one of India's best-known ethnic snack-food brands, today announces the much-awaited launch of "Minute Khana" – its preservative-free frozen and RTE food range – in India.
Minute Khana with a shelf life of two years will be available in retail across the country and in over 40 other countries across five continents making it the most available Indian ethnic frozen food range globally.
Minute Khana range features some of India's most iconic ethnic snacks, sweets, and cuisines that combine the taste of tradition Haldiram's Nagpur is renowned for with the ease and convenience the 21st-century demands, allowing consumers to enjoy the authentic taste of Indian food on-the-go and within minutes.
Avin Agarwal, Director, Haldiram's Nagpur, said, "As one of India's best-known food brands, we have been consciously working towards catering to the evolving food palette of the modern and discerning consumer in India and beyond. We are seeing a rapid growth in consumption of convenience food that is beyond just instant noodles. Minute Khana will offer consumers the widest possible range of ethnic Indian snacks and food ranging from parathas to samosas that are not only flavorful but also extremely safe to consume. With Minute Khana, we have also taken the lead in creating an entirely preservative-free RTE food range that will redefine the way people access and consume Indian food even outside India. Through the unmatched distribution strength of Haldiram's, we expect to be on the shelves of all major modern retail across India."
On the USP of the Minute Khana frozen and RTE food range, Mr. Agarwal elaborated, "It adheres to the age-old traditions of creating Indian food with recipes that have been passed down from generations. For those who want to enjoy a real Indian meal that is quick and affordable, Minute Khana is a symphony of spices and tastes."
The Minute Khana frozen food range will be manufactured at Haldiram's 400-acre Food Park in Nagpur with a production capacity of 15 million potions per year.
The Indian RTE and frozen food market is poised for exponential growth as people and families gravitate towards convenience of frozen food with a spurt in cold chain infrastructure across the country to match the demand. According to IMARC Group, the Indian frozen foods market reached ₹144.3 billion in 2022 and is expected to reach ₹353.3 billion by 2028 at a CAGR of 16%.
Comment