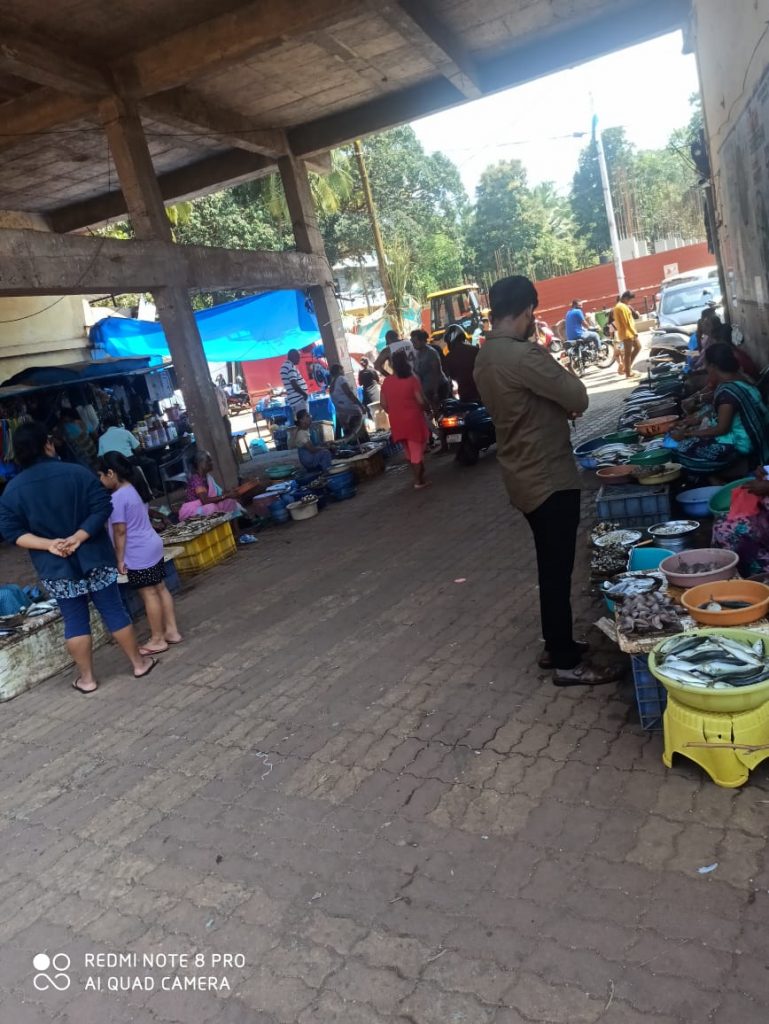 Goemkrponn desk
CANACONA – The highhanded behaviour of Municipal fish-Market vendors is back to haunt the municipal authorities as well as create public inconvenience at Chaudi- Canacona.
It may be recalled that all the municipal fish vendors, consisting primarily of women fish sellers, citing the unkept municipal Fish market as unfit for occupation, were squatting outside the market complex, not only hindering traffic but also blocking public movements right in front of the Camara building (now demolished and taken for construction of new Administrative-Cum-Commercial building). The fish vendors were claiming the dirtiness of the fish Market, with no toilet and other facilities reported. More importantly, as fish is sold everywhere on the municipal roadsides, fish buyers are not entering the fish-Market to buy their fish.
CMC has also stopped the roadside selling of fish, especially on the dangerous practice of Fisherwomen squatting along the Karwar -Margao Highway road in municipal areas, prominently under the MPCBR over-bridge near Char-rasta.
After Canacona Municipality's strict measures and threatened eviction action, and on the personal intervention of CMC Chairperson Ramakant Naikgaunkar, the Fisherwomen relented and began to occupy the municipal market, with Municipality assuring to clean the market regularly and keep it clean and fit for occupation and stopped roadside fish selling practices in municipal areas.
That was almost a month ago, now beginning at the end of last week, now once again all the fish vendors again began to desert the municipal fish market and resumed selling fish squatting outside the fish-Market, blocking public access and roadside traffic at the municipal market entrance and Ponsulem roadside.
An irate CMC Chairperson Ramakant Naikgaunkar said, ' This type of and display of high-handedness by the fish vendors is not only unwarranted but uncalled for. The municipality was Cleaning the fish market regularly and keeping it tidy, but inspite of that, the fish vendors are again out of the fish market. The fish vendors also had a complaint that fish is sold on roadsides in municipal areas, and no fish buyers enter the fish market, so also considering the danger to motorists, pedestrians and tiers due to this practice, we have stopped any fish selling activities on roadsides., But still, municipal fish vendors in a highhanded manner are again sitting outside the fish market now.
Naikgaunkar further informed, 'if the market is not used, what's the point in maintaining it? The municipality will also have to disconnect the electricity supply instead of paying the bills for its no use. The council will also have to consider the CMC proposal in the final stages to construct a 4-Crores worth new Municipal fish-Market. What is the use of a fresh fish market if Fisherwomen don't want to make their Trade from it? We may have to think about it. '.
Comment