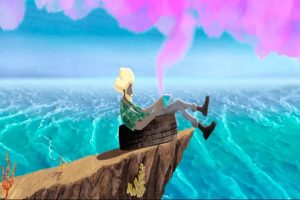 Making the 53rd International Film Festival of India scheduled to be held in Goa from November 20 special, is the curated package of animation films from different parts of the world. The films have been selected to appeal to both children and adults.
The five films chosen for the festival are:
Blind Willow, Sleeping Woman
This Japanese animation feature film of 2022 is based on the short stories by the renowned writer Haruki Murakami. It will not just entertain the fans of this author but also make him familiar with those who haven't read his works.
The movie explores how an earthquake and a giant frog help characters reveal "truths they've been hiding from themselves". The narrative in the film is made up of memories, dreams and fantasies, influenced by individual visions of the earthquake, as the protagonists try to reconnect with who they really are.
The film has been created by Pierre Földes, a filmmaker, composer, painter and orchestrator from the US.
My Love Affair with Marriage
Using music and science this 2022 animation drama examines the biological chemistry of love and gender, as well as the societal pressures on an individual to conform to social mores.
The story deals with the inner female rebellion, where a young spirited woman, Zelma, is determined to conform to the pressures of singing Mythology Sirens in order to be loved, but the more she conforms, the more her body resists.
The film, which has already made waves in film festivals around the world, has been created by Signe Baumane a Latvian animator, artist, illustrator and writer. She has written, directed, designed and animated 16 shorts and two animated feature films.
The Island
This musical animation and a cross-genre film on the Robinson Crusoe myth: The Little Prince Meets Monty Python has been made by Anca Damian. The 2021 movie is about Robinson, a doctor whose voluntary solitude on an island is invaded by migrants, NGOs and guards.
Robinson saves Friday, a castaway, the only survivor of his illegal refugee boat and during his journey on the island, he encounters extraordinary beings and events.
Comment