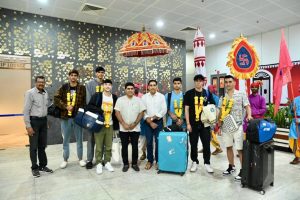 Goemkapronn desk
Margao: Minister for Sports and Youth Affairs, Govind Gaude, on Tuesday welcomed the first batch of athletes that arrived at Dabolim International Airport for the 37th National Games in Goa.
The athletes were welcomed to the beats of dhol and tashe and garlanded upon arrival. Also present were local Vasco MLA Krishna Salkar, along with Sports Authority of Goa officials.
Liaison officers were present to receive the athletes, Gaude said. "It is a proud moment for the state of Goa that we are hosting the 37th National Games 2023. The first team to participate in the Games has arrived from Uttarakhand and will compete in badminton. We must accord an Athiti Devo Bhavo welcome to them. All athletes and technical officials are our guests," he said. "156 athletes will arrive at the Mopa and Dabolim airports and Margao and Karmali railway stations, while two will come in their vehicles. All of them will be coming by 9 p.m.
All their arrangements for travelling to and fro from the airports and railway stations to their respective hotels, their accommodation, and food have been put in place by the Goa Government. I wish all of them the best of luck in their sporting events. As a Goan, on behalf of every Goan, and being the Minister for Art and Culture, I welcome them all," the minister said.
Salkar said it is a proud moment for every Goan that the National Games is being held in Goa. "I thank the Chief Minister and Sports Minister for holding such a prestigious event in our state.
The Prime Minister has shown trust in the state to organise this event. A lot of hard work has gone into the preparations to complete the infrastructure for the Games," he said.
"This is an opportunity for Goans which we should not miss and take inspiration. Goans should go to the sporting venues and watch the proceedings. Numerous athletes will be coming to our state from all over the country. Goans can witness a sporting atmosphere in the state and the various games. I urge Goans to extend a helping hand to our guests who are coming here, if required, and make the Games a grand success," Salkar added.
Comment