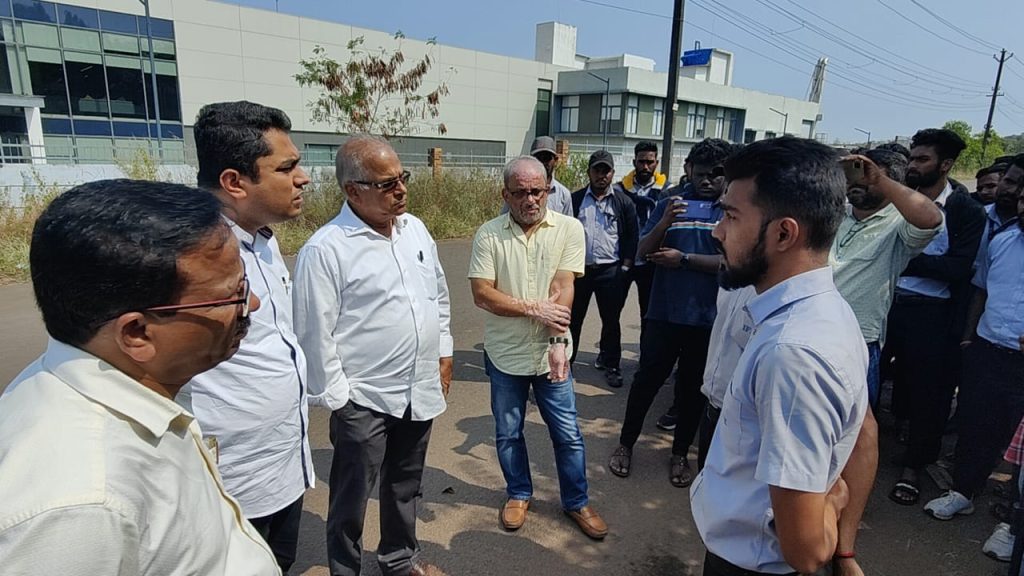 Goemkarponn desk
VERNA: Goa Forward Party (GFP) on Wednesday extended support to the 130-odd IFB company workers striking at Verna.
A delegation of GFP leaders, including Sr Vice President Mohandas Lolienkar, Vice President Durgadas Kamat, Dilip Prabhudessai and Prashant Naik, met the workers and discussed the reasons for the strike.
Prashant Naik, later addressing the media, said that It had always been the GFP's duty to raise a voice against wrongdoings and extend support to the people who have lost their jobs.
"Industries usually adopt the use and throw policy and expel the same workers who build the company from its inception. These workers have been meted with injustice because the employment card shows that these boys are already employed; hence, they will not get a job elsewhere and will have no future," he said.
He further added that profit and loss are a part of the buisness and removing workers is never a solution, and IFB, an international company, should not deprive the Goan youth of their jobs and future," said Naik.
"We have seen fewer strikes in Goa, and this incident will simply spoil the atmosphere in the entire Verna industrial estate. This incident will also be a wrong precedent to other companies, and this is not a threat to not only these workers but also to all the workers across other industries in Goa, and this has to be stopped instantly," said Naik.
"If the company is facing losses, why are they not removing the managerial staff and management officials who are getting good salaries hikes, perks and even incentives. We will question the company officials and take this issue to the labour commissioner and the government. The Government is talking of having a job fair on one side and ignoring the 130-odd people who have lost their jobs. The Government, especially the labour minister, should have intervened and directed the company to take them back immediately. What is the purpose of having a labour and industries minister if the basic issues of the workers are not solved? No agitation is good, and we only want that the Government must not force people to come on the roads," said Naik.
GFP Vice President Durgadas Kamat said that GFP had raised the issue when Cipla Company had conducted interviews in Other states and ensured that the interviews had been cancelled
"These are Goan youth who have been removed, but the same company has taken 50 more people from other states after taking interviews in Kolhapur. This means that the company is doing well but wants to avoid fixing Goan workers because they will have to be given all benefits like gratuity etc., increasing the company overhead. GFP supremo Vijai Sardesai has already asked CM Dr Pramod Sawant to come clear because they say there were 20,000 registrations, 4000 interviews and 400 were given jobs, but here we have 130 people removed from the company. The CM, Dr Pramod Sawant and the labour minister have not spoken a word on this agitation, but we will support these workers and take this issue to its logical end," said Kamat.
Comment