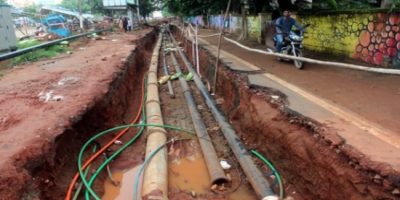 Goemkarponn desk
PANAJI: The Goa IT Professional have demanded for underground cabling of electricity and fibre cables for minimum impact during cyclones, which have become a regular phenomenon.
"While the disasters are fresh in our mind, it is essential that the government plans for such events that are now becoming frequent. In this regard, Goa IT Professionals, the consortium representing the IT workforce of Goa, would like to make the following suggestions," the GITP said in a press release.
GITP, also agrees to offer our pro-bono services in the technical evaluation of these suggestions.
1. Underground cabling of electricity and Fibre cables across the state with Geospatial database to record the layout
Cyclones have become a regular phenomenon. For least impact on life and business, it is essential to ensure that there is no power and internet outage during such events. A well planned project to transfer all overhead cables underground is the need of the hour. The cabling layout needs to be recorded in a geospatial database so that technicians have a ready reference of the underground assets when needed. Also, the layout needs to be made available to all road contractors so that there is no unintended damage.
2. Implementation of comprehensive state-wide hospital management system
During a sickness in the family, the patient should not be made to run from pillar to post and make umpteen calls on always busy helplines searching for a hospital bed. All information should be available at the fingertips of citizens in real time. Health records of patients should be available to doctors digitally. We request DHS to set up a state-wide Hospital Management System so that details of every patient are recorded and the patient should get a paperless experience. With current technology this is certainly possible with several established software vendors offering this service.
3. Diversify the industry Goa relies on and focus on Software, ESDM and Manufacturing
The primary industry in Goa is still Tourism. We have already seen that, in order to keep the economy alive, the government was constrained in applying stringent measures in the state. It is now necessary to look beyond tourism and focus on IT, ESDM and Manufacturing which have been highly resilient in continuing their business in the pandemic.
"60 years after liberation, let us put up a progressive face of Goa. We reiterate that we can set up a task force of professionals to guide the government in implementing the above recommendations," GITP says.
Comment