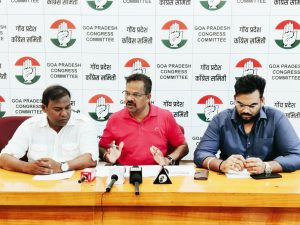 Goemkarponn Desk
PANAJI: Alleging that the Goa government is practicing 'Mission Total Commission' formula in the state by harassing PWD contractors, Congress has stated that it will write to 'Competition of Commission of India' to investigate corruption involved.
GPCC General Secretary Vijay Bhike on Saturday addressed a press conference in Congress House and said that 'total commission' BJP government is engaged in corruption since last many years.
North Goa District President Virendra Shirodkar and North District President of Youth Congress Rinaldo Rosario were present on the occasion.
"People of Karnataka have shown door to the BJP MLAs because of rampant corruption, which was known as '40 percent Sarkar'. In Goa it is 'total commission'." Bhike said.
He alleged that PWD office and Chief Ministers office is involved in demanding 'commission' from PWD contractors.
"PWD contractors invest their own money to get the work done. However they are harassed. PWD Ministers PA takes commission to do even tender process. Chief Ministers office also does same thing. Tenders rules are flouted for the sake of commission ," he said.
Bhike said that departments of government have gone on silent mode. "PWD works are in slow pace. Only corruption is taking place. Here only 'bags' are exchanged. On field no work is seen in completion mode. Due to this people are suffering," Bhike said.
He said that they will write to Competition of commission of India to investigate all these alleged corruption taking place in PWD and harassment met to contractors.
"Government should give clarification on this. Why central agencies are not investigating such things, where they can nab many persons involved in corruption," Bhike questioned.
Replying to question, Bhike said that contractors are afraid to raise voice as government suppresses them.
He said that no sooner the rain starts pouring in Panaji, corruption of Smart City projects will be exposed.
He said that as contractors give commission, they are forced to do sub standard work and use domestic cooking gas for welding purposes to save money.
Rinaldo Rosario said that double engine government has failed to create jobs. "Unemployment rate for January is 16.5 percent. Many youths are unemployed and government has not taken this issue seriously. This has forced youths to leave state and find jobs outside," he said.
Comment