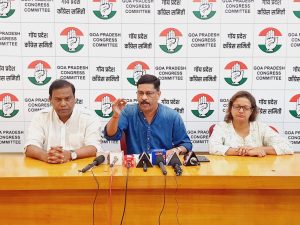 Goemkapronn desk
Panaji: Government has announced that 7 Films of Goan Film Makers are selected for Goan Section. I demand that Chief Minister Dr. Pramod Sawant must clarify if the Goan Section will be part of Official Section of IFFI. I allege that this Goan Section is just an eye wash to fool Goan Filmmakers, charged Congress Media Cell Chairman Amarnath Panjikar.
Addressing a Press Conference at Congress House in the presence of North Goa District Congress President Virendra Shirodkar and Panaji Mahila Congress Block President Lavinia Da Costa, Congress Media Cell Chairman said that IFFI is converted into International Fraud Festival of India by BJP Government.
Any Film which is screened in any International Film Festival is entitled to get Financial Benefit under Goa Film Finance Scheme. Chief Minister should make it clear if the Seven Films will get the same benefits or not, demanded Amarnath Panjikar.
As per replies given to LAQ of Leader of Opposition Yuri Alemao, the only film which was selected for Official Screening of IFFI from 2019 to 2022 was Wagro in 2022. This proves that Goan Film Makers were misguided by the Entertainment Society of Goa (ESG) on Screening of their Films, said Amarnath Panjikar.
The much-hyped IFFI could get only 269 International Delegates in the last four editions of the festival despite Goa Government spending almost 100 crores and Central Government contributing negligible 11.8 crores on from 2019 to 2022. This data is enough to prove that IFFI is reduced to a Domestic Film Festival, stated Amarnath Panjikar.
It is high time that the Government releases a white paper on IFFI which will throw light on the actual benefits of IFFI to the State as against the huge expenditure incurred by the Government every year, said Amarnath Panjikar.
ESG IS BJP'S REHABILITATION CENTRE
ESG has become Rehabilitation Centre for BJP. It is shocking that Loudspeaker of PM Narendra Modi lShefali Vaidya, MLA Kedar Naik and Daji Salkar, Event Managers Sanjay Shetye and Sushant Khedekar are appointed on the ESG. Most of the other members are from BJP Cadre having no knowledge of Films and Entertainment, Amarnath Panjikar said.
Why eminent Goan Film Makers like Laxmikant Shetgaonkar, Sairaj Uskaikar, Bardroy Barreto, Dr. Pramod Salgaonkar, Dynaneshwar Govekar are not appointed on the General Body of ESG? These Film Makers have produced good Films which were screened in Official Section of IFFI in the past, said Amarnath Panjikar.
RELEASE DPR ON FILM CITY
We have reliable information that CM Dr. Pramod Sawant and Minister Subhash Faldessai have Personal Welfare in Film City Land Deal. There is Brokerage Deal and hence Subhash Faldessai is speaking loudly.
We will expose them soon. We demand Government must make Detailed Project Report before acquiring Land for Film City, demanded Amarnath Panjikar.
Comment