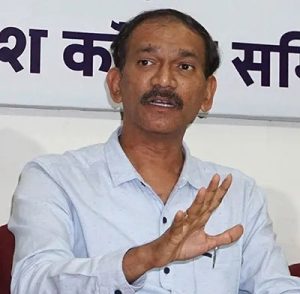 Goemkarponn desk
PANAJI: Congress leader Girish Chodankar on Friday advised Goa Chief Minister Pramod Sawant to work towards giving entry to Bahujan Samaj in temples (sanctum of sanctorum), when he speaks about protecting Sanatan Dharma.
"Biggest 'Dharm' is Manav' Dharm. Congress respects all religions. Bahujan Samaj is meeting with discrimination… Sanatan Dharm needs to work on it. Everyone doesn't get entry in temples (sanctum of sanctorum). There is a need to bring changes here in Sanatan Dharma. There should not be caste discrimination. We need to allow even lower castes to enter temples. We need to focus on it, " Chodankar advised Sawant, while addressing a press conference here.
Sawant on Monday, while addressing a meeting in Madhya Pradesh, had said that "rulers like Mughals and British couldn't wipe out the Sanatana Dharma from the country in the past. But Congress (INDIA bloc) is trying to insult Sanatan Dharma to garner votes. Hence people should question them".
"Chief Minister has got double and triple roles… he is responsible for the collapse of law and order in the state. Sometimes he makes statements against Portuguese, he makes statements on temples… It is not clear whether he does it on his own or told by his party from Delhi, " former Congress Chief Chodankar said.
"If he is committed to his statement (protecting Sanatan Dharma), then he should study history and know how communal harmony was disturbed by BJP in Goa. He should first take action on those organisations of BJP, which are responsible for disturbing communal harmony. There was no tension of communal harmony in Goa before BJP came to power. The Chief Minister is responsible for disturbing it, " Chodankar, Permanent Invitee of Congress Working Committee (of AICC), said.
According to Chodankar, discrimination exists in Goa over entry of certain communities in the sanctum sanctorum of temples in Goa. Hence, the Chief Minister should first see that discrimination is not met here to any people. "All should be allowed to enter the temple, " Chodankar added.
Comment