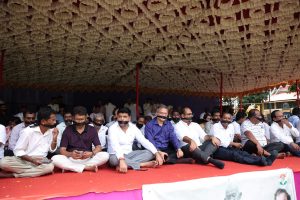 Goemkarponn desk
PANAJI: The Goa unit of Congress on Wednesday held a day-long maun satyagraha' (silent protest) at Azad Maidan-Panaji against the disqualification of the party's former President Rahul Gandhi from Parliament following his conviction in the Modi surname defamation case.
The leaders wore black bands on their mouths to symbolically convey that freedom of speech has been stifled by the BJP.
Speaking to reporters, GPCC President Amit Patkar said that 'maun satyagraha' is staged nationwide in support of Rahul Gandhi.
"BJP government has murdered the democracy of the country. This became clear after they hatched a conspiracy against Rahul Gandhi and disqualified him from the Parliament as he was exposing deeds of Prime Minister Narendra Modi and the central government," Patkar said.
He said the Modi government is trying to destroy democracy in the country. "Congress workers are holding a 'silent satyagraha' against this oppressive government attitude," he said.
"Rahul Gandhi is working in the interest of the common man, and hence people hailed him during his Bharat Jodo Yatra. BJP was afraid of his popularity, and when he exposed relations between Modi and Adani, he was expelled from the Parliament," he said.
Patkar said that nothing good is happening in the regime of the BJP. "In Goa, when Congress MLAs tried to corner the government, BJP robbed our MLAs by purchasing them like commodities and pressuring them using central agencies like ED and CBI. This is the modus operandi it uses to be in power and usurp power," Patkar said.
Aldona MLA Adv. Carlos Alvares Ferreira said that an assault on Rahul Gandhi is an assault on democracy.
"Rahulji is a true leader of the poorest of the poor and one who is genuinely concerned about the common citizen of our country. Together we will fight to restore true democratic values as enshrined in our Constitution," he said.
Ferreira said that the BJP is suppressing the public's voice by using central agencies.
Senior Vice President M K Shaikh, former Union Minister Ramakant Khalap, Senior leader Shambu Bhandekar, Mahila President Beena Naik, Amarnath Panjikar, Subhash Faldessai, Tulio Dsouza, Everson Vales, Orvil Dorado, Viriato Fernandes, Virendra Shirodkar, Savio DSilva, Moreno Rebello, Archit Naik, Varad Mardolkar, Vijay Bhike, Naushad Chaudhari, Vivek D'Silva, Jaydev Prabhugaonkar, Niazi Shaikh and others were present.
Comment