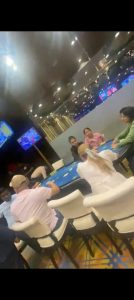 Goemkarponn desk
MARGAO: The Congress leaders Janardan Bhandari and Elvis Gomes have submitted a memorandum to the Government to immediately shut down illegal onshore casinos that are playing live games, which is not allowed.
The leaders also demanded cancellations of suc
h licences.
"We have repeatedly brought to the notice of the government authorities the various illegalities of playing non-allowed online/live gaming/poker games in Onshore Casinos. In our first memorandum submitted on 04/07/2022, we had cited in detail illegalities in 3 Onshore Casinos & Cadillac Casino was one of them, but govt. Authorities preferred to neglect our memorandum," said the memorandum submitted by Elvis Gomes & Janardhan Bhandari.
It says that due to negligence of the government authorities, a recent incident occurred where Cadillac Casino filed a complaint against its staff & customers for allegedly cheating the Casino Company. Such incidents projected that "Casino Raj" is prevailing in Goa & Goa has now become lawless Las Vegas.
"We have cited how Onshore Casinos, particularly Cadillac Casino, which is operated by "Goldfinch Resorts Pvt. Ltd." is engaged in various illegal gaming activities & other illegalities, which are listed further," they said.
The Congress leaders said that many Onshore Casinos, including Cadillac Casino (Provisional License obtained on 12/02/2022 by Goldfinch Resorts Pvt. Ltd.) are illegally operating on the Provisional license without obtaining a full-fledged license.
"These Onshore casinos are not properly complying rules laid down by Home Department, PWD for operating Onshore Casinos; Though Live gaming is not permitted in Onshore Casinos, to attract customers, these Onshore casinos are openly engaged in illegally running live gaming without fearing for govt authorities," they said.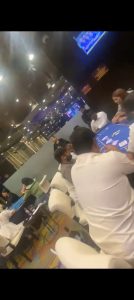 They say that it is also reliably learnt that illegal Online/ Live Poker gaming is also played in these Onshore Casinos & there is a racket involved behind running these online poker games in Goa & in Jan. 2022, Porvorim Police arrested 3 persons for running illegal online poker gaming activity & for the involvement of hawala-linked international money laundering racket.
"International players are playing these illegal games through money laundering, cryptocurrency, US Dollar to Bitcoin etc. [6] One notorious criminal who was arrested by Porvorim Police in 2022 is running illegal poker game in Cadillac Casino; In the jurisdiction of these Onshore casinos various complaints in respect of Online/Live Gaming, Sexual complaints, cheating/fraud cases are registered; In many cases it has been found that Onshore/Offshore casinos refused to pay money to winning customer & used bouncers to forcefully throw them out," they alleged.
Bhandari and Gomes write that after observing all such illegalities, and criminal activities, we strongly demanded that;
"Having found presence of one notorious criminal along with the person, who operates Cadillac Casino, for running illegal game which includes poker (Hon'ble Enforcement Directorate has conducted through inquiry for the same) & due to presence of international gamblers in past couple of months playing all such illegal games & the way money has been laundered through cryptocurrencies, we strongly demand to immediately constitute Investigation Committee comprising of at least 2 neutral expert member for a free & fair inquiry of casino operations of Cadillac Casino & till the probe is completed suspend the Provisional license of Cadillac Casino to curb further illegalities & illegal gambling activities. Immediately obtain CCTV footage of the last 6 months of Cadillac Casino & undertake Government-authorized Audit on the basis of footage obtained of the last 6 months for investigating involvement in illegal gambling activities, playing online/live gambling activities/online/live poker, thereby evading government dues by various fraudulent means & If involvement of Cadillac Casino is found in illegal gambling activities, playing online/live gambling activities/online poker, in evading government dues by various fraudulent means, then the license of Cadillac Casino should be cancelled immediately & heavy fines should be imposed on Cadillac Casino & criminal cases should be filed against owners/directors of "Goldfinch Resort Pvt. Ltd." for cheating the Government & for committing other crimes," they said.
"We demand the Government to take necessary action against this violator within the next 15 days, failing which we will come on the street to protest against such fraudsters & even will not hesitate to march towards such casinos to prevent open loot of public money," they stated.
Comment