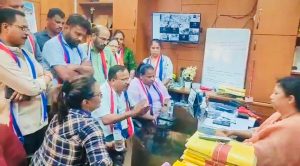 Goemkarponn desk
The Goa Forward Party on Wednesday, for the second time in the last seven days, besieged Civil Supplies Department officials for supplying contaminated rice to public and sought action against staff responsible for mismanagement.
On Tuesday last week, the GFP had held protests at the Department office and had served a seven days ultimatum to take action, and hence, they again came to the office and sought an update on action on their demands.
"Today, we have been told by the Director that action would be taken by May 26, hence we will wait till that time and if this office fails, then again we will protest on Monday," GFP leader Prashant Naik told reporters.
Irked with the incident of supplying rice infested with maggots, mites and fungus to ration card holders of the coastal state, party members protested against officials and alleged that the government and its department is responsible for the mismanagement.
In August last year, the Civil Supplies Department drew criticism after 241 tonnes of 'toor daal' was found spoiled in its warehouses.
"After the incident of 'toor dal', we had demanded action. Had the government taken action then, similar incident would have not happened now. Government and Civil Supplies Department is responsible for this mess. If the government fails to take action now, then again similar incidents will happen. Hence we want action against the responsible officers within seven days. If the government fails to take action within seven days, then we will come again in large numbers and protest," Naik said.
He said that it is serious issue of the health of poor people who consume this rice supplied by Civil Supplies Department.
Goa Chief Minister Pramod Sawant last week had said that Civil Supplies officials should check the warehouses to check quality and should not leave it on store keepers.
Goa's Department of Civil Supplies, which is often in the limelight for wastage and spoilage of commodities in warehouses, has now once again drawn attention over its alleged mismanagement by supplying spoiled rice to ration card holders.
Comment