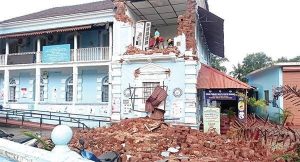 Goemkapronn desk
Margao: "It is certain that the BJP Government headed by Chief Minister Dr. Pramod Sawant has deliberately adopted "Go Slow" approach on dilapidated "Heritage Buildings" in Goa with an ulterior motive to allow them to collapse. This appears to be one of the modus operandi of the BJP Government to wipe out traces of Portuguese in Goa," charged Leader of Opposition Yuri Alemao.
"I demand that the Government must immediately come out with an Action Plan of Repairs, Renovation & Refurbishment of all the Heritage Buildings in Goa. Government should first focus on preserving these Heritage Structures rather than wasting public funds on Events," Yuri Alemao said.
He said the data provided by the Public Works Department to me in the last Assembly Session reveals that heritage buildings like Old GMC Complex at Campal & Ribandar, Hospicio Hospital, Margao, Maquienez Palace at Campal, Social Welfare Department Building at Panaji, Urban Health Centre at Margao, South Goa Education Zonal Office Building near Holy Spirit Church, are some of the heritage structures which are identified as in "Bad & Deteriorating" condition.
"It is shocking that the Government has not taken any proactive steps to undertake repairs of all such buildings despite the Structural Audits pointing out to their deteriorating conditions endangering the lives of the occupants as well as people visiting all such buildings," stated Yuri Alemao.
The reply given to my Legislative Assembly Question 139 dated 18th July 2023 reveal that the Heritage Building housing Directorate of Social Welfare is identified in the year 2020 as in deteriorating condition. The reply further states that the structure is old and weak and is occupied by 250 Officers and other Officials working in the Office.
"Surprisingly the reply also reveals that Government has not conducted any Safety Audit of the said Building to ensure Safety & Security of the occupants as well as the visitors to the said Heritage Building and has not declared the said building as "Unsafe for Occupancy", stated Yuri Alemao. The Government has similarly neglected all other Heritage Structures as well," he said.
"I am shocked to note that the South Goa District Collectorate Building named as "Mathany Saldhana Administrative Complex" is also identified by the Government as in "Bad & Deteriorating" Condition. Ravindra Bhavan, Margao, Bal Bhavan Annexe, at Campal, various Government Residential Complexes, Primary Health Centres and School Buildings are also appearing in the list of Bad & Deteriorating Structures," Yuri Alemao stated.
Comment