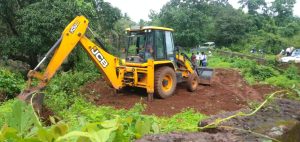 Furious locals protest, call it the dictatorship of BJP Government, vow to fight back against project work
According to locals around 80 houses affected due to floods
Goemkarponn desk
PONDA: The Government began work on Murdi-Sonarbaag Bandhara work by imposing section 144 amidst protest by locals at Murdi-Khandepar.
The locals alleged the dictatorship of the BJP government and vowed to fight back against project work.
The large police force, including police inspectors of different police stations beside WRD Officials, were present at Murdi where they began work on the approach road to Bandhara.
The WRD Official Shailesh Naik said this ₹ 80 Cr. project, will have 5-meter height five pillars and work on Bandhara would begin from Murdi and would take two years. He said all the public hearings and formalities are completed.
However, when asked locals said they are kept in the dark over the issue and during the PWD hearing officials failed to explain the benefits and loss to people. Panchmember Abijeet Gaude said the Curti-Khandepar Panchayat had already passed a resolution against the project and also revoked NOC to the project.
According to locals around 80 houses are affected due to flood and in the case of bandhara being built more villagers would suffer.
Flooding is the main reason why locals are opposing the Bandhara. In 2021 they witnessed a major flood. Not only Murdi but the villagers residing at the other end of Bandhara at Sonarbag Usgao also condemned the imposition of section 144. The locals said they would stand up to fight back against the project.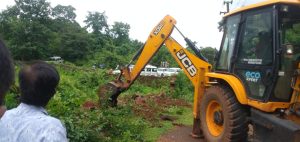 Locals said Section 144 is against the right to live freely and celebrate religious functions. Yesterday Shravan Month, the holy month of Hinduism commenced when people go to worship temples. Section 144 will violate their rights.
Further, it is for two years means it is an injustice against them. They said next month there would be Ganesh Festival and this section should be immediately removed.
Locals said soon they would decide on strategies and decision to oppose the project.
Comment