Goemkarponn Desk
PANAJI: Chief Minister Pramod Sawant today said that Goa government is contemplating to ban some aggressive dog breeds in Goa.
Sawant was addressing the gathering at the World Rabies Day function today. S
"State govt is contemplating to ban some aggressive dog breeds in Goa; some dog breeds directly attack people, state is considering banning such breeds," said Sawant
He further said that Goa is witnessing at least one or two fatal road accidents per day due to stray dogs.
"Goa is the only rabies free state in the country, in addition to vaccinating dogs, govt will also take up sterilization drives to control the population of dogs in Goa in association with Mission Rabies," he added.
Sawant also urged children present at the program to be compassionate about animals and not to hurt them.
"The state of Goa has rabies control. Some people bring dogs from other states for their pet but fail to vaccinate them, according to Sawant.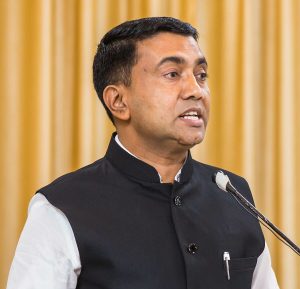 In his address, Sawant referred to an incident that happened in late August when a Rottweiler breed dog leaped over a house fence and attacked two children, gravely injuring one of them.
After Goa was chosen as the perfect state to set the bar for rabies eradication throughout India, Mission Rabies was officially launched there in 2013.
Goa's director of animal husbandry, Dr. Agostinho Mesquita, published a notice in the official gazette on May 17, 2021, designating Goa as a "state under rabies control."
In order to eradicate rabies from Goa, the Goa government agreed to collaborate and fund the Mission Rabies project. As a result, the Goa government started funding Mission Rabies, which set out on a mission to vaccinate more than one lakh dogs annually for three years in a row, covering 70% of the state's dog population, both owned and stray.
Now, the state administration wants to work with others on a quest to sterilize all the state's stray canines.
In order to maintain control over the dog population, we are also initiating a sterilisation campaign. We will have the most problems if the population increases too quickly. According to Sawant, one to two incidents result in serious injuries per day on average.
Comment