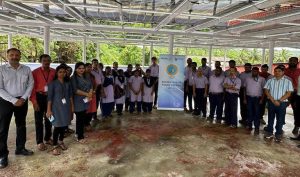 Goemkarponn desk
Panaji, Goa – Sept 4, 2023 – Goa State Commission for Persons with Disabilities in collaboration with the Rotary Club of Panaji Riviera marked yet another milestone in their mission to empower special school students by hosting a transformative industrial visit for 21 students from Lokvishwas Pratishthan's Special School in Dhavali, Ponda-Goa at DHOOP Agrawal Renewable Energy Pvt Ltd in Ponda.
This visit guided by Denzil Xavier and Tanvi Doshi Samant from Rotary Club of Panaji Riviera alongwith Guruprasad Pawaskar, State Commissioner for Persons with Disabilities, aimed to ignite curiosity, offering a glimpse into potential career paths and environmental sustainability. The special school students, accompanied by their dedicated teachers, were warmly welcomed by Mr. Anirudh Agrawal, the owner and Director of DHOOP Agrawal Renewable Energy Pvt Ltd. Mr. Prashant Yewalekar-General Manager and his team provided the students with a comprehensive understanding of the company's operations.
Expressing their gratitude, Mr. Denzil Xavier- President of Rotary Club of Panaji Riviera and Ms. Tanvi DoshiSawant, Project Coordinator extended their thanks to Mr. Anirudh Agrawal for his generous support and for making this educational initiative possible. They also acknowledged the pivotal role played by Mr. Guruprasad Pawaskar, the State Commissioner for Persons with Disabilities in facilitating this collaboration.
These specially tailored industrial visits for children with disabilities serve a vital purpose by offering students first-hand exposure to cutting-edge technology and real-world operations. The objective is to broaden their horizons, provide insights into potential career paths, and ignite their curiosity about the world of work.
Agrawal Renewable Energy Pvt Ltd (AREPL), a part of the Agrawal Group in Goa, is committed to spreading renewable energy across the globe. They are known for their state-of-the-art robotic setup for manufacturing solar panels under the brand name DHOOP. Their dedication to innovation is further demonstrated by the establishment of a top-tier reliability lab. AREPL's core belief is to make a positive contribution to reversing global warming and creating a better environment for all.
During the Rotary year 2023-24, the Rotary Club of Panaji Riviera has undertaken the noble task of coordinating numerous industrial visits for students from various Special Schools across Goa. With the successful completion of this visit, the Rotary Club has already conducted four such visits since July 1, 2023, positively impacting over 100 students. The club has ambitious plans to continue enriching the lives of more special children throughout this Rotary year.
Comment