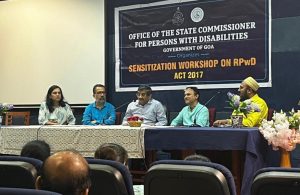 Goemkarponn desk
Panaji: The State Commissioner for Persons with Disabilities, Goa, organized a two-day sensitization workshop for all the engineers and architects of the Public Works Department, Government of Goa, on June 13 and 14, 2023.
The workshop was aimed at creating awareness and understanding about the needs and rights of people with disabilities in terms of accessibility and inclusivity of infrastructure facilities in the state. This was the third workshop in the series of sensitization training for state officials.
The workshop was inaugurated by Punit Kumar Goel, IAS, Chief Secretary of Goa. He addressed the participants and stressed the crucial role of PWD in creating smooth mobility for people with disabilities and all pedestrians. He cited examples of how other countries have designed their roads and footpaths to be accessible and friendly for people with disabilities. He stressed that Goa, being the number one state in the country in terms of per capita income, should set an example for others. "We all will become persons with disabilities when we reach a certain age. We all need those roads that are smooth and accessible for everyone. We should learn from other countries' examples and institutions that are committed to this cause. We should change our attitude and think of the dignity and equality of people with disabilities when we design and construct our infrastructure," he said.
Guruprasad Pawaskar, State Commissioner for Persons with Disabilities, discussed the many provisions that require access to various infrastructure facilities in the state, such as buildings, roads, beaches and other activities.
He said that they have received positive feedback from people with disabilities who use services like buses and schools after conducting sensitization workshops. "We are implementing the Rights of Persons with Disabilities Act, 2016, which is about ensuring the dignity and equality of people with disabilities in all aspects of life. The act mandates that we make our infrastructure facilities accessible and inclusive for everyone, whether it is building, road, beach or any other activity. The government is committed to this cause and has organized events like Purple Fest to celebrate the diversity and potential of people with disabilities," he said.
The workshop was spearheaded by Abhijit Murugkar, founder of Design Bridge Diversity and Inclusion Foundation. Highlighting the importance of creating accessible and barrier-free infrastructure for people with disabilities due to the lack of consideration for their needs in the past constructions, he said that India has built many buildings and transportation systems in the last 75 years since independence, but without thinking about accessibility and inclusivity. He urged the participants to take corrective action and not repeat this mistake for future generations. Murugkar stressed that this change is a long and transformative process that starts with design.
He also explained the concept of universal design, which means designing for all people, regardless of their abilities or disabilities. He said that through their workshops, they try to create a mindset among the technical consultants that whatever they design, whether it is a bridge, a pedestrian pathway, a bus stop, or a toilet, it is going to be used by everybody. He also mentioned that disability is limited to wheelchair users and that there are 21 types of disabilities recognized by the law. "We have a legacy of building infrastructure and transportation systems that are not accessible and friendly for people with disabilities. Now it's time that we do not repeat this mistake for the future and we create the right accessible barrier-free infrastructure for generations to come," he said.
The two-day workshop helped the participants learn about the rights of persons with disabilities in India, the legal and policy framework to implement them, and the best practices of universal design and accessibility. The workshop also included empathy-building exercises, technical audit exercises, and discussions on the current challenges and opportunities at the department level.
"The idea is not just to sensitize and take technical training and finish, but we will be hand holding them further on as well. The final aim is to eventually create inclusive infrastructure in Goa," said Kavita Murugkar, co-founder of Design Bridge Diversity and Inclusion Foundation.
Subhash Phal Dessai, Hon'ble Minister for Social Welfare, attended the closing ceremony, which praised the Commission for organizing the workshop. Also in attendance was Taha Haaziq, Secretary, Office of the State Commissioner for Persons with Disabilities.
Comment