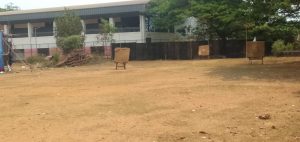 Dilapidated Condition…
With SAG and Sports dept neglecting the ground, bushes have grown on the ground
Scrap material of old construction dumped is now rusting.
Toilets in dilapidated condition.
Urinals left unused due to lack of maintenance.
Ponda Sports Complex, where several sportsmen train, has become a home for reptiles and other animals
Needs urgent govt attention, say locals and sportspersons.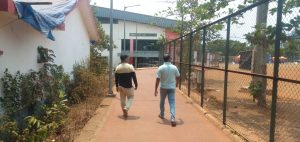 Goemkarponn desk
PONDA: Goa is all set to host the 37th National Games later this year, for which infrastructure worth crores of rupees has been developed besides a ₹225 cr budget allocation for the Games.
While on the one hand, hundreds of crores of rupees are spent on hosting just one event on the grounds where our sportspersons train has been neglected.
Goemkarponn brings you the condition of the Ponda Sports Complex ground located at Curti, which lies in shambles.
The ground has lost its charm with heaps of scrap material dumped, and bushes have grown.
The senior citizens using the walking track invited the attention of Chief Minister Dr Pramod Sawant and Sports Minister Govind Gaude.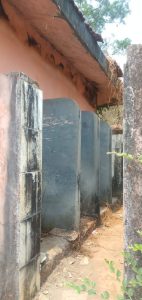 Locals say the scrap metal material dumped is rusting on the ground and blocking the playground space. If the ball falls into scrap, it may prove risky as reptiles have taken shelter in scrap and bushes.
King Cobra, Scorpions, and dogs are seen when people walk along the track.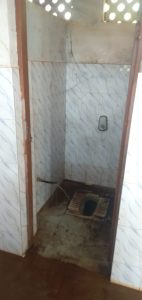 "Many times, the dogs have bitten the walkers. Recently king cobra was caught near the ground. With no grass left on the ground, it appears muddy, and when players play on the ground, the dust affects the health of people using walking tracks," say, locals.
Viraj Sapre, a local, said lack of proper maintenance has been the reason for the condition of this ground.
The toilet blocks wore an abandoned look and were also in unhygienic condition. The urinals also need to be functional, Sapre said.
He said the Gymkhana is also not in proper condition, and the nullah bordering the sports complex ground is dumped with heaps of garbage beside bushes; trees are growing up in the nullah, which needs to be trimmed to prevent the entry of animals and reptiles.
Rocky Dias said beer bottles can be seen strewn on the ground, which needs to be cleared and prevent the entry of unauthorised persons as it poses a risk to the safety of players.
Dias said Sports Minister Govind Gaude knows the condition of this ground.
"He said that efforts are on to give a good look for ground with maintenance and renovation work. Gaude knows the problems faced at the Sports Complex ground, and a tender is floated for renovation work," Dias said.
Comment