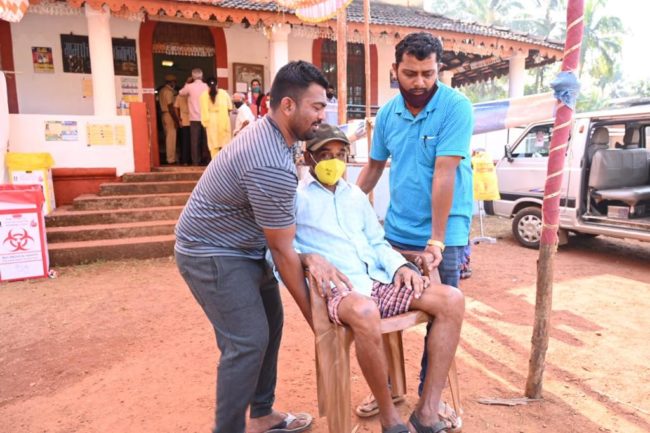 Goemkarponn desk
PANAJI: A total of 78.94 per cent (approximate) of voters turnout to exercise their franchise on Monday, which is almost three per cent lower compared to the 2017 election.
Addressing the media, CEO Kunal IAS informed that the total voter turnout is 78.94 per cent which is a tentative figure and the final figures could cross 80 p.c. He said that the Sankhali constituency witnessed the highest voter turnout of 89.64 while the Benaulim constituency witnessed the lowest voter turnout of 70.2 per cent.
He further said that the voting percentage in North Goa stands at 79.84 per cent, while the figures for South Goa are 78.15 per cent.
"A total of 301 candidates from different political parties are in the electoral fray in Goa. The polling for 40 assembly constituencies was held across 1722 polling stations. The counting is scheduled on March 10," said Kunal IAS.
CEO also said that postal ballots are yet to be counted, and that figure amounts to 12, 546.
The total additions are 30599, out of which 14512 electors are in the age group 18 to 19 years i.e. first-time voters and in the age group of 20 yrs is 2295. Total voters deleted are 14409, out of which 7536 were deleted since expired, 443 since repeated, 135 since disqualified, 93 since missing and 6202 since shifted.
Out of shifted voters, 3996 voters shifted within Goa from one Assembly Constituency to another. Net change since the previous roll is 16190, which is a 1.24% change over the previous roll. 10318 persons with disabilities tagged and Above 80+ are 30038 Senior citizens.
Past percentages
In 2017, Goa's voting percentage was 82.62 %, in 2012 it was 82.94 %, 2007 (70.00 %), 2002 (68.75 %), 1998 (65.00 %), 1994 (71.20 %), 1989 (72.47%), 1984 (71.86%).
Vehicle set ablaze in Bicholim…
One BJP leader Vallabh Salkar alleged that his vehicle was set ablaze by some opposition workers.
Police complaints have been lodged against unknown persons.
DGP Indra Kumar Shukla said that CCTV footage and investigations are on. Culprits will be arrested soon, he said.
Assault plaint against Bhatikar…
In Ponda, BJP workers filed a complaint against MGP Leader and Ponda candidate Dr Ketan Bhatikar for assault on youth and lady at one polling booth in Bablyakhali, Curti. The victims are sent for medical checkups. Lady alleged that Bhatikar pushed her, while youth said Bhatikar caused him neck injuries on some petty issue.
However, MGP candidate Dr Ketan Bhatikar reject allegations of assault on lady and youth. He said there was a fight between his workers and the lady on distributing money to voters.
He said if the allegation proved, he would resign from politics.
"This is a conspiracy to defame me by his rivals. Let Police investigate and find out the truth," he said.
Scuffle in Canacona…
In Canacona, there was a slight commotion at the Kudewada polling booth in Gaondongrim village, where some voters began to shout to vote for Ramesh Tawadkar (BJP candidate) asking everyone present at the booth to vote only for Tawadkar.
A few others objected to the dictates right at the polling booth and, according to sources, requested for polling Officers attention.
Voters take a picture of EVM…
In Ponda, an FIR was registered against a person to violate the Representation of peoples Act. The person is taking a picture of the machine after casting his votes, the DGP said.
Cash & Liquor seizure…
Rs 6,60,58,000 total cash seized in Goa, which
Liquor seized was Rs 3,57,000.
Comment