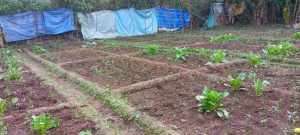 Goemkarponn desk
SANKHALIM: Chilli farmers of Ravan Sattari are grief stricken by frequent intrusion of Indian Bison in their farms. Rising incidents of Bison destroying plantations have caused anger among the farmers in Ravan and the nearby villages of Sattari.
Hemant Gawas, a chilli farmer, said they sold around 10 kg of chillies daily. The recent intrusion of Bison has resulted in heavy losses. Besides, the other crops of long bean, amaranth leaves, were also destroyed. He said, "Bison intruded and continued to relish the ripened chillies late at night. " We could not do anything but stand and watch our farms getting destroyed". Bison behave more aggressively when they are accompanied by baby bison or the calves, he added.
Lamenting, Gawas said this was the peak season when they used to earn something for their livelihood. His mother said, "Although our Panch member has collected the information along with photographs and assured compensation, we have not received any enquiry call so far.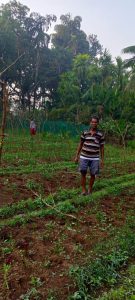 "Panch member has said he will submit the compensation application to the Panchayat, and we will receive an enquiry call. More than a week has passed, but we haven't received any enquiry call".
Yet another chilli farmer, Vinayak Gawas, said, "Although we have fenced our farm, Bison entered the plantation and caused extensive damage to their entire chilli farm.
Anant Gawas said they have suffered heavy losses due to Indian Bison. "Despite taking different measures, the Bison intruded and destroyed the plantation. Driving away Bison during night time is a dangerous task since there is a high possibility of getting attacked by these huge animals". He informed that many farmers have left farming due to heavy losses incurred due to the intrusion of wild animals.
When contacted, the Sarpanch of Querim Village Panchayat Diksha Gawas informed that no application claiming compensation had been received from the villagers. She said, "I had heard that the Bison has intruded and destroyed the farms in Ravan, Kevode, and Koparde villages. But so far, no application claiming compensation has been received".
In one such recent incident, the farmer from Nagargao Sattari had lamented about the destruction of banana, betel nut, coconut, cashew and mango plantations by the Indian Bison.
Comment