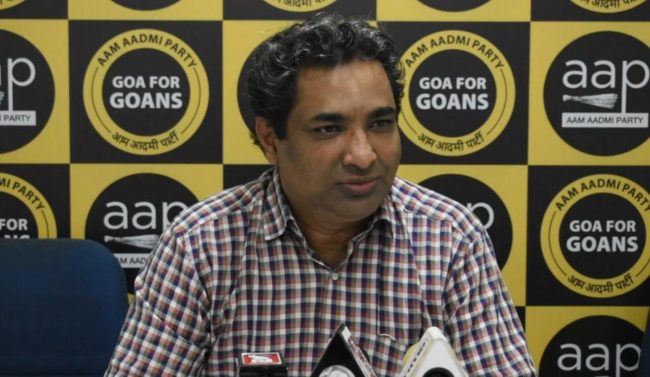 Goemkarponn desk
PANAJI: Goa is in the eye of a Covid storm. Beds are not available to such an extent that patients are being treated on the floor even in private hospitals, medicines such as remdesivir are becoming scarce, and the oxygen shortage across the nation may soon be felt in Goa as well. In such a situation, the Govt should be working unitedly as a team, as well as taking any assistance that can be provided by corporates, organisations, other political parties, NGOs and citizens. Instead, Goans are left floundering because of mixed signals coming from their elected leaders, and complete lack of information and awareness.
Aam Aadmi Party appeals to the BJP-led Govt of Goa to focus on nothing else other than handling the dangerous surge of cases and deaths in Goa. Some suggestions from the party are as follows:
1) COMMUNICATION:
Instead of talking to each other, the CM Pramod Sawant and the Health Minister Vishwajit Rane appear to be contradicting each other through media. This is creating confusion among the people and demotivation among the administration, and needs to stop immediately!! There needs to be joint press conferences by both the Health Minister and Chief Minister with clear decisions communicated in one voice.
2) ENFORCEMENT OF RESTRICTIONS:
It is no secret that the recently announced restrictions are simply on paper. If the Govt is not in favour of a complete lockdown, then at a very minimum, all large congregations of people MUST be stopped – whether weddings, festivals, casinos, nightclubs, and large meetings of ANY kind including that of the Govt. These restrictions need to be enforced with police machinery if required.
3) AWARENESS:
The Govt keeps saying that people are dying because "they are coming to the hospital too late". This is a very strange assumption that people are not interested in saving their own life. Covid-positive patients in home isolation are being given tele-consultation by doctors. If these patients are coming too late to the hospital, has the Govt reviewed and updated the supervision protocols with these doctors based on the new information?
Additionally, if people are not respecting restrictions, or testing early enough, then the Govt needs to to launch a comprehensive media campaign at village level for the next one week, to remind the citizen of covid-safe behaviour, how to recognise symptoms, where to get tested, and how to take the next step of treatment.
4) INFORMATION:
Even after a patient is positive or needs hospitalisation, there is no clarity on where the bed are available and what is the next step the patient should take. There needs to be a war room or app dashboard that can maintain a real-time status of available covid beds, oxygen beds and ICU beds. This needs to also reflect availability of medicines such as Remdesevir, and supplies such as oxygen.
Aam Aadmi Party appeals to the Govt of Goa to give confidence to the people of Goa that we can overcome the current crisis.
Comment