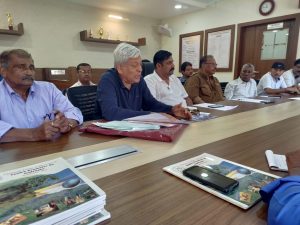 Goemkarponn desk
CANACONA: The first ever Educational Society formed in 1922, which eventually sowed the seeds of education in Canacona, is all geared up to celebrate its Centennial Celebrations.
Beginning on 28th January, a series of centennial programs and competitions at Centro Promotor de Instrucao (CPI's) Shree Mallikarjun Vidhyala, Char-rasta, setting the tone of year-long celebrations in Canacona.
Centro Promotor de Instrucao was formed on 28th December 1922 by a group of few people who thought education is the key to human development, beginning the first ever School, a 'Marathi Shala' in a private house at Char-Rasta in Canacona. It was registered within a year, on 2nd October 1923, during the term of than Governador (of Goa-Portuguese) Jaime Alberto De Castro Morais (1919-1925), who is known to have visited the then students in Canacona.
Addressing media, CPI's Centennial Celebrations Organizing Committee Chairman Engr. Vikas Dessai informed the Governor of Goa, P S Shridharan Pillai will attend the first of the several grand functions scheduled throughout the year on the 28th of this month, where a few of the past pupils of Shri Mallikarjun Vidyalaya who have excelled in different fields will be felicitated. Canacona MLA and Speaker Ramesh Tawadkar will also be present.
Dessai informed as there was no educational felicity in Canacona, some of the children used to travel in bullock carts to Quepem, Sanvordem, and Durbhat to Ponda '( A J Almeida School) to study.
It was during 1918 that Typhoid struck the Ponda area, and a young lad from Canacona who used to go to School in Ponda succumbed to that epidemic.
At that period, some Education –Lovers got together and understanding the gravity of educational needs in Canacona itself formed this Centro Promotor de Instrucao, becoming g the pioneer of education in the entire Canacona taluka.
There used to be no government grants then, but than Camra, Partagal Math, and Shree Mallikarjun Devalaya used to help fund the society; for several years, operating schools in private houses until initially a small school was constructed. The Marathi medium was also slowly changed to English medium;, informed Dessai.
Over the years, the students who have learnt in this School have attained name and fame in the country and internationally.
Some of the ex-students to be felicitated are Dr Uma Yeshwant Tilve aliasLalan Nagarsekar (the first Gynecologist from Canacona), Wing Commander Uvena Fernandes (also International Referee), Dr Sulba Pramod Keni Alias Sulba Shivrai Dalal, Dr Seema Chandrakant Porob, Dr Sadhna Butho Desai alias Dr Sadhna Shetye, Dr Suvida Surendra Rane alias Saxi Neugi, Manisha Babusao Naikgaonkar, alias Manisha Pawar, Poorna Pandurang Phaldessai alias Poorna Prajyot Bhagat, Mallikar Dhillan Dessai,, all these women ex-students of the CPI would be felicitated on 28th January.
General Assembly Chairman – Rajendra Dessai, Managing Committee Chairman Shamba Dessai, Secretary Pundalik Naik Gaunkar, Treasurer- Ramesh B Komarpant, Kamlakar Mhalshi, Anil Dessai, Babuso Naik Gaonkar, Ram Dessaim Soiru Komarpant, Pramod Rane, Manoj Naikgaunkar, Bhanudas Naikgaunkar, Avit Naikgaunkjar, Premanand Naikgaunkar.
Some more personalities/ex-students who made a mark in the society will also be felicitated in another function slated for February, besides various competitions are planned between all the educational institutes of Canacona.
Besides Shri Mallikarjun Vidyalaya High School, presently CPI is running Nursery, Pre-Primary and Primary Schools, and Shree Mallikarjun Vidyalaya Higher Secondary School of Science, Arts and Commerce, having effective strength of 135(Primary), 310 (High-School) and 240(Higher-Secondary) students.
Comment