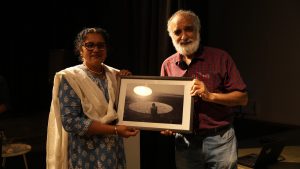 ~ Astronomers of various faiths pitched in to help design the Jantar Mantar
~ Jai Singh II is regarded as a pioneer in the popularisation of science in India
Goemkarponn desk
PANAJI: One of India's most iconic scientific marvels, the Jantar Mantar in Jaipur, is a cosmopolitan space created with ideas from astronomy scholars of various religious backgrounds, including Jesuit priests stationed in Goa, according to philosopher and science historian Dhruv Raina.
Raina, who delivered a lecture at the MOG Sundays, an initiative of the Museum of Goa, Pilerne,
on the significance of the 18th century astronomical observation site, also said that the site is "truly an innovation far ahead of its time" and intrinsically secular in nature.
"Many Jesuits who came to India from France were astronomers. They interacted with local traditions and ways of doing astronomy. Jai Singh II wrote to the Governor of Goa to tell him that he needed some astronomers and the governor sent some Jesuit priests," he said. Hence, Jai Singh II's endeavour facilitated interactions between Muslim, Brahmin and Christian astronomers, making it a secular space, Raina suggested.
The site, which features the world's largest stone sundial and now holds UNESCO World Heritage status, was built by the founder of Jaipur and Rajput ruler Jai Singh II built the Jantar Mantar in pursuit of accurate scientific knowledge and its production. The sun dial is colloquially known as the 'Samrat Yantra' or 'King of Instruments'.
While architectural traditions of the Indian subcontinent generally promote symbolic carvings on all surfaces, the walls of the Jantar Mantar are intentionally left bare, according to the academician. Conceptualised as a scientific space, Raina said this should lack distractions as there are people of different persuasions working together and you cannot appeal to the aesthetic sentiments of a favoured community. "The architecture here conforms to that idea," he said.
The Jantar Mantar (jantar translates to instrument and mantar refers to a calculation method), site has been extensively studied by science historians. It facilitates observation of celestial positions through the naked eye. It comprises 19 astronomical devices.
According to Raina, the Jantar Mantar is an improved and innovative version of the Samarkand observatory in Ulugbek, Uzbekistan, which is another testament to its cosmopolitanism. He also mentioned that the observatory conforms to Bauhausian or Modernist trends in architecture almost a century before the emergence of modern scientific spaces.
The Jantar Mantar's construction has both religious and socio-political significance. There was a demand for calendrical reform within the Mughal Empire for secularisation of time. This would help plot widespread campaigns and days of reverence accurately. As Jai Singh II was both the ruler of Amber and an official of the Mughal Empire with an affinity for astronomy, he was approached with the task and consequently constructed the laboratories.
Raina also talked about how Jai Singh II built five Jantar Mantars – in Benaras, Mathura, Ujjain, Delhi and Jaipur, respectively – as he thought building more laboratories would enable more people to make accurate observations. "Long before people talked about the popularisation of science, Jai Singh II made the laboratories available to many astronomers and astrologers to rectify existing inaccuracies," he said. This is mentioned in Jai Singh II's almanack titled 'Zij-i-Muhammed Shāhi' in dedication to the then-Mughal emperor Muhammed Shah in Delhi.
Comment