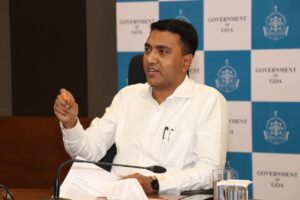 Goemkarponn Desk
PANAJI: Chief Minister Pramod Sawant said that people of Goa need to work to enhance happiness index.
"We need to work to enhance happiness index. People expect Government to enhance happiness index which is not right and urged them to strive hard to achieve it on their own," said CM Sawant
He assured all assistance from Government to reach all the necessary amenities to the people and help them in this venture.
"Meditation brings in us clarity of mind, thought and action. Yoga and meditation are important in our life.We need to develop positivity among us which is possible with yoga and meditation," he added
Sawant said that development of positivity among the people is possible only by practicing yoga and meditation.
The Chief Minister seeking coperation of everyone to take up this campaign at every doorstep said the stakeholders of school, colleges have an important role in this endeavour.
"With the practice of meditation, we will be able to create happy family, people with peace of mind and positivity. Lets work together to elevate happy index in our State, he remarked," said CM
Art of Living Goa Head Prasanna Prabhu addressing said mind has to tackle more, being basic faculty. Yoga and the practice of meditation helps to overcome stress of mind and also leads to enhance our inner strength as well. We can address the problems of mind with the help of meditation, he pointed.
Prabhu further said everything which comes in our action is because of mind. If we do meditation, we enjoy peace and calmness. Meditation will help to become good human being. Therefore we have to take this campaign at nook & corner of Goa in the interest ofthe people.
Comment