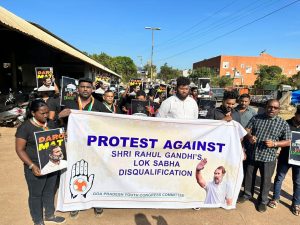 Goemkarponn desk
PANAJI: The South Goa District Youth Congress Committee led by district president Mahesh Nadar protested the ruling Modi government for its attempts to undemocratically silence Congress leader Rahul Gandhi for having exposed the unholy nexus between the ruling government and the dealings of Adani.
Speaking at the protest, the district president Mahesh Nadar highlighted how the BJP government is trying to silence every critical voice and shut down every critical question.
"It is very sad that we have come to this. We urge the people to understand what the BJP is trying to do. They are trying to shun every voice that is raised against them. They are shunning every question that is put across to them by diverting," Nadar said.
"What did Rahul Gandhi do? He made a speech where he didn't say all Modis are robbers. He specifically referred to Lalit and Niirav Modi and asked whether it is only people with the surname Modi who are turning out to be robbers. The names he has taken are big culprits who have run huge defaults and have run scams to the tune of crores of Rupees," Nadar said.
Ex-National Spokesperson Wilma Fernandes highlighted the speed with which the Modi government got the judiciary to act when it came to disposing of the defamation petition filed against Rahul Gandhi and subsequently asked him to vacate his bungalow.
"If the government is serious, why don't they move with the same speed with regard to the disqualification petitions filed against the Congress MLAs who have moved to the BJP. Why are these petitions kept pending for years and years," Fernandes said, throwing a challenge to the Speaker to dispose of the disqualification petitions in two days.
State vice president Vaishnav Pednekar pointed out how Rahul Gandhi had been gaining in popularity by trying to bring the country together as part of the Bharat Jodo Yatra.
"The BJP is afraid of the rising popularity of Rahul Gandhi and the popularity of his appeal against the fraud being committed by the Adani Group, and they want to silence him. First, they expunged his speeches, later they muted the Parliament microphones, and now they want to disqualify him," Pednekar said.
State Vice President Kanisha Menezes highlighted the risks the country faces from the Modi government's intimidatory tactics.
"It starts in Delhi and will spread across the country. See in Goa how, despite having the majority, they stole eight Congress MLAs only because they wanted to silence the opposition. He wants to finish democracy, the constitution. My appeal to the country's people is to stop supporting the BJP and do it for the future of us, the youth," Menezes said.
Comment