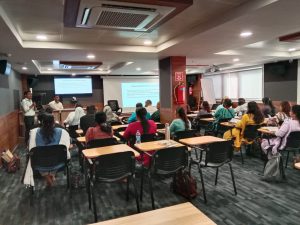 Goemkarponn desk
PANAJI: In an effort to create just and decisive care and support for children with disabilities, the Goa State Commission brought together stakeholders and childcare institutions providing residential care for children with disabilities on 21st March 2023 at Conference Hall, Model Career Centre, Panaji.
The meeting was also attended by human resource managers of different corporates who support institutions with disabilities through corporate social responsibility and placement services. In the opening remarks, Peter F. Borges, Chairperson, stressed the need to unlock synergies between agencies to ensure benefits and services to children and strengthen early intervention services.
He said children with disabilities are treated as children needing care and protection under the Juvenile Justice Act. Lower education rates, poorer health, and limited participation in the labour market and society mean that children with disabilities are more likely to experience chronic poverty and social exclusion throughout their lives.
The meeting brought to the fore several issues which require collaboration and coordination: 1) Several children with disabilities are still not able to access DSS, Priority Household (PHH) cards (access to food security), including the issuance of disability certificates, aids, and assistive devices.
The Directorates of Civil Supplies & Consumer Affairs, Social Welfare, District Early Intervention Centres, Education and Provedoria were directed to ensure coordination and ensure 100% access to social protection services.
1) There was a severe lack of coordination between authorities providing diagnosis, treatment, and rehabilitation services for children with disabilities leading to poor services in terms of education.
2 The Directorate of Education and District Early Intervention Centres at the District Hospital and Institute of Psychiatry and Human Behaviour was directed to establish a protocol for coordination and collaboration to ensure smooth services. It was further recommended that RBSK-Rashtriya Bal Swasthya Karyakram services which involve screening of children from birth to 18 years of age for four Ds – Defects at birth, Diseases, Deficiencies and Development delays be strengthened at the school level so that the load on DEIC is reduced for effective services.
3) There is little attention to the employment readiness, gap in placement and meaningful employment of people with disabilities. There is a need to evolve an ecosystem for persons with disabilities to be included in skills development, have jobs, and contribute to society. The Commission resolved to create an interface between industry and people with disabilities for placement and job opportunities.
Comment