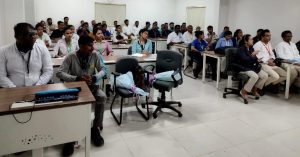 Goemkarponn Desk
MOPA: With an aim of providing a hassle free experience for Persons with Disability (PwD) at the newly commissioned Manohar International Airport, Mopa, The Goa State Commission for Persons with Disabilities in association with GMR and Directorate of Civil Aviationare conducting a series of training sessions for about 1500employees.
Inaugurated on Tuesday,May 23, at the Skill Development Building atMopa Airport, the training sessions will focus on approach and attitude towards PwD.Thismandatory training will be attended by  staffersof all the departments and airlines operating at the airport. The training sessions will be conducted in batches of 50 and will be held every Wednesday and Thursday of the week.
Present for the inauguration were GuruprasadPawaskar, State Commissioner for Persons with Disabilities, TahaHaaziq, Secretary, Goa State Commission for PwDs, Nitish Victor, Head, Human Resources GMR and the trainers VishantNagvekar, MahadevSawant, Jamila Haaziq and Prasad Joshi.
GuruprasadPawaskar, State Commissioner for PwD said "The training is been conducted to inculcate the right approach towards passengers with disabilities. To make travelling seamless, a lot depends on the services provided prior to take off and landing, and this is where those working here should be sensitised thoroughly so that they are able to give PwD dignityand a sense of empowerment during their travel."He urged the staff to be more empathetic towards PwD travelling and provide as much assistance needed.
Nitish Victor, Head Human Resources, GMR Goa International Airport Ltd stated"Whereas persons with disabilities are increasingly travelling by Air, there is a need to facilitate their acceptance. We at Manohar International Airport are committed to protect the rights and dignity of people with disabilities."
Four trainershave been appointed by Goa State Commission for Persons with Disabilities. VishantNagvekar (person with Orthopaedic disability), MahadevSawant (person with low vision), Jamila Haaziq(person with blindness) and Prasad Joshi (person with hearing impairment)who will conduct the sessions. Besides, Josephina D'Souza a sign language interpreter would be part of the training to acquaint the trainees with an understanding of sign language that will help them understand and converse with PwD.
VishantNagvekar, a Trainer said, "It was extremely interesting to facilitate this training for airport staff here at Mopa. The eagerness to understand how to approach passengers with disability was motivating for us. We have been able to touch lives of the first batch of trainees today, and over the next few days 1500 will know what it is to live with a disability and why people need to know facts to be sensitive yet not sympathetic in their approach. Respect and dignity is at the core of what we are imparting besides understanding behaviours, communicating with PwDs."
Comment