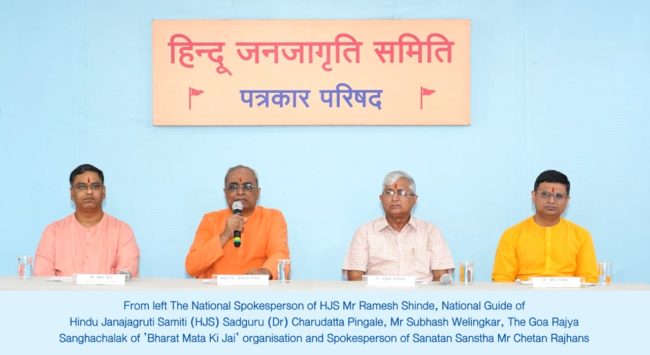 Goemkarponn desk
PANAJI: Akhil Bharatiya Hindu Rashtra Adhiveshan (All India Hindu Rashtra Convention) is being held in Goa for the past 10 years. They gave the necessary momentum to the discussions of Hindu Rashtra commenced. Thereafter, with the goal of establishing the Hindu Rashtra, operations in different fields commenced. Many Islamic nations of the world have come together to oppose India over the statement made by Nupur Sharma regarding Islam while she was the spokesperson of the BJP. Al Qaeda has directly threatened to attack India. But No one seems to be protesting against those who are deliberately insulting the religious sentiments of Hindus by saying, 'why do Hindus worship Shivlinga as 'Fountain' or Hindu Guptanga (Shivlinga)?'. From this, it is clear why at least one nation of Hindus is needed worldwide. This information was given during the Press Conference held at Panaji, Goa, by the National Guide of Hindu Janajagruti Samiti (HJS) Sadguru (Dr) Charudatta Pingale. He further informed that the 10th Akhil Bharatiya Hindu Rashtra Adhiveshan is being held at Shri Ramnath Temple from 12 to 18 June 2022 at Ramnathi, Ponda, Goa.
Subhash Welingkar, The Goa Rajya Sanghachalak of 'Bharat Mata Ki Jai' organization, the National Spokesperson of HJS Mr Ramesh Shinde and Spokesperson of Sanatan Sanstha Chetan Rajhans were also present for the Conference.
'Hindu Rashtra Sansad' – The unique feature of the Hindu Convention this year
During the Press Conference, Sadguru Pingale further added, Effort will be made in the 10th Adhiveshan to decide the policy for the functioning of the Hindu Rashtra. A unique feature of the Adhiveshan this year is the organization of the Hindu Rashtra Sansad (Hindu Rashtra Assembly).
It will guide the attendees on ways to ensure ideal functioning of the Government. During the course of the Adhiveshan, Hindu Rashtra Sansad will be held for three days. The Sansad will hold detailed discussion by experts on subjects such as 'Parliamentary and Constitutional ways for establishing the Hindu Rashtra', 'Model administration of the temples' and 'How to adopt Hindu Educational Policies ?'.
Subhash Welingkar, The Goa Rajya Sanghachalak of 'Bharat Mata Ki Jai' organization said, "At present there is a feeling of insecurity in the minds of Hindus all over the country. After The Kashmir Files, riots and violence erupted in many parts of the country. A similar situation is developing in Goa. It has been revealed that extremist groups like the Popular Front of India (PFI) are behind these incidents. This organization has also become active in Goa. Therefore, for the safety of Goans, we have done an innovative experiment of 'Hindu Raksha Mahaaghadi'. We are trying our best not to repeat in the future the way Hindus were persecuted in the past through the Goa Inquisition".
Comment