* Fatorda MLA Vijai Sardesai smells a rat in IDC plot transfers
* Min Godinho says all data of GIDC pertaining to the transfer of plots & change of names to be digitised
---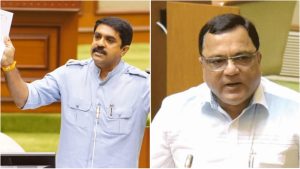 Goemkarponn desk
PORVORIM: Minister for Industries Mauvin Godinho today announced that all the data of Goa Industries Development Corporation (GIDC) would be fully digitised.
Godinho said with this; citizens will be able to track the transfer of plots and change of names in a smooth and transparent manner.
"Data of Goa Industries Development Corporation (GIDC) pertaining to the transfer of plots as well as change of names is being digitised,' said Godinho
He further informed the house that the digitisation process would be done within the shortest period, that is, within the next six months.
"Only non-polluting and green industries will be allowed to set up in the state. In Goa, we do not encourage or allow polluting industries. Only green industries are welcome. Among existing industries, we compel them to follow the pollution norms of the highest standards," he said.
He further urged the MLAs to try and get non-polluting industries to Goa. He said that entertainment and film production units are most preferred.
Fatorda MLA Vijai Sardesai alleged a scam in the transfer of GIDC's plots while stating that State has lost revenue.
"There are nine such units where this type of swapping of land has been allowed. There should be action and inquiry into this matter," he added.
Sardesai said his party has also filed a complaint with the Vigilance Department, but no action has yet been taken.
Sardesai also provided a video of a person in a black car allegedly accepting a bribe for allotment of land at the Industrial Estate, to which Minister Mauvin Godinho assured that he would take whatever action was necessary.
Comment