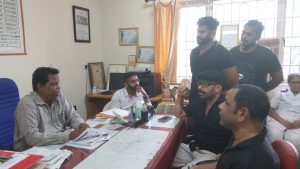 Says CHC will be solely responsible for any eventuality
Goemkarponn desk
CANACONA: Stating that the residents suffering from failures of the government to bring improvement in medical facilities at the only Government hospital( Community Health Centre (CHC)) in Canacona, Congressmen met the Health Officer demanding to bring improvement before it was too late.
Congress leader Janardhan Bhandari along with Congress (South-Goa) District Secretary Gaspar Coutinho, Youth Congress (South) Vice–President. Vaishnav Pednekar and Secretary Cleston Viegas, amongst the congress leaders in Canacona, call on the CHC Health Officer, Dr. Jose Tavares, to ask for explanations and clarifications.
'Due to repeated complaints of Canconkars about lack of medical treatment/facilities at Canacona Health Centre, Congress Leader Janardhan Bhandari, along with his team, met the Health Officer (Dr. Jose Tavares( of the CHC. Janardhan Bhandari demanded improved medical treatment and questioned why the medical infrastructure is not up to the status of a Community Health Centre.
According to Congressmen, the Health Officer tried to cover shortcomings by giving excuses, but the congress team led by Janardhan Bhandari warned the Health officer that CHC would be solely responsible for all types of consequences or any casualty occurring due to denial of medical treatment to needy patients.
Later, Bhandari, while interacting with the media, said, 'They (ministers/authorities) hear your grievances but do not act on it and with their expertise of dodging leaves the problems as it is.
There are shortages of medicine (and no back-up of stocks), there are complaints that doctors are coming late and going early, doctors supposed to come at CHC twice a week do not come regularly and skip the days.' And several other grievances are left as it is.
Vaishnav Pednekar stated, 'At least one minister or someone visits Canacona taluka for some or other reasons, during some events or official visits or to oversee construction of ashram-Dham houses. Why are they not visiting the hospital, Mamlatdar office (where also complaints are there)? Why are they not visiting? Health Minister had visited a hospital in Bambolim, and some staff caught for negligence in duties were suspended; such visits are required here too!'.
Comment