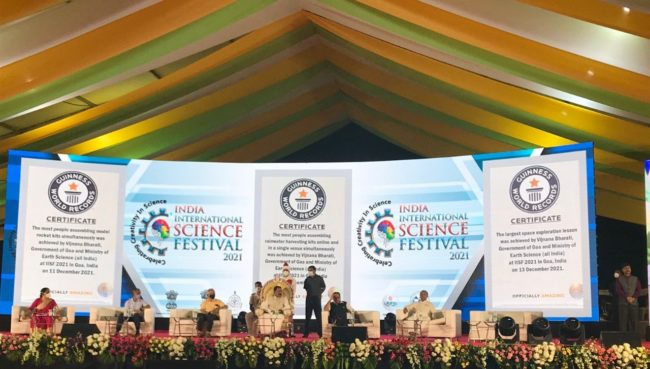 Cinnamon farming in the country is the biggest achievement of the IISF- Dr Shekhar Mande
Goemkarponn desk
India International Science Festival-2021 concluded today with three Guinness records at Goa. IISF witnessed the first Guinness record for 'The most people assembling model rocket kits simultaneously at one place' on 11th December. On 12th December at IISF 'The most people assembling rainwater harvesting kits online and in a single venue simultaneously' was achieved and on the valedictory day of the festival Third Guinness record of 'The largest space exploration lesson in a single venue' was achieved.
Valedictory function of India International Festival-2021 was attended by Governor of Goa Shri P.S. Sreedharan Pillai, Chief Secretary Shri Parimal Rai; Dr M. Ravichandran, Secretary, Ministry of Earth Sciences; Dr Shekhar Mande, DG, CSIR, Joint Secretary Smt. Indira Murthy and Shri Jayant Saharabudhe, National organizing secretary of Vijnana Bharati were present on this occasion.
Governor Shri P.S. Sreedharan Pillai in his address stressed on the importance of preserving Indian values with the help of science and technology. He said, "we need to give more emphasis on propagating our own thoughts. In Covid-19 Pandemic our scientist achieved success to develop a vaccine within 9 months and successfully achieved vaccination drive. This is an example of celebration of science and innovation. Let the ideas flow like majestic rivers of our country. In the next 25 years India will leap forward as the tallest nation in the field of science and technology. Indian International Science Festival will help Goa to become a science hub".
Dr M. Ravichandran, Secretary, Ministry of Earth Sciences in his address appreciated the efforts of the organizers to make three Guinness records on three consecutive days. This festival is successful in bringing the students attention towards the field of science and technology, he said.
Dr Shekhar Mande in his address said that In the IISF-2021 History made today with the starting of Cinnamon cultivation in India through farmers meet at India International Science Festival in Goa.
India International Science Festival is a Celebration of Science. Over the last six editions IISF has become a platform for every citizen to connect science. IISF 2021 was organized in a hybrid mode. More than 10,000 delegates witnessed the event physically and 20, 000 joined through virtual mode. In the International Science Film Festival 100 films from 25 countries were screened. For communicating science, the science literature festival 'Vigyanika' was held successfully. Hundreds of writers, performers joined the event.
In the IISF 300 models were demonstrated by engineering students, which are of direct impact on the common man. Through the 'Science Village Festival' students from the rural part of Goa got the opportunity to interact with the scientists. 200 traditional craft artisans participated in the festival and shared the traditional science. In 'Jagrut Bharat Ecofest' school children from across the country joined and shared their stories on environmental protection.
India International Science festival (IISF) is a joint program of the Ministry of Science & Technology, Ministry of Earth Sciences and Vijnana Bharati (VIBHA) a swadeshi movement of Bharat. The first program of IISF was held in 2015 and the sixth edition of this annual event was organized in 2020. The main purpose of IISF is to celebrate science along with people in India and across the globe.
Comment