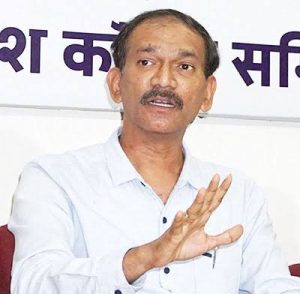 Goemkarponn Desk
PANAJI: Stating that High Court of Bombay at Panaji as expressed concern over the criminal incident in Porvorim, Congress Leader Girish Chodankar on Friday demanded CBI inquiry into murders, land grabbing, police-politician nexus to threaten Sarpanch, Serula Communidade scam and other issues.
Girish Chodankar on Friday addressed a press conference at Congress House and said that if Porvorim MLA and Minister Rohan Khaunte fails to come clear over it, then Chief Minister Pramod Sawant should sack him from cabinet and initiate inquiry.
General Secretary Pradip Naik, Himanshu Tivrekar, Sarvesh Naik, Nilesh Chari were present.
"There are a number of cases and incidents which should be investigated. Police are being used to threaten Sarpanch over panchyat politics. RTI activist is being murdered in Porvorim for allegedly raising voice and there are land grabbing scams. This everything should be inquired either by CBI or by retired judge," Chodankar said.
He said that Rohan Khaunte failed to reply to serious questions raised by him, however he was quick to advise him to check sodium levels. "I have checked it and it is in normal range." Chodankar said, showing his report.
High Court judge had said in open court "What is going on in Goa? How can you treat a lawyer like this? Nobody will dare to complain against illegal construction if a lawyer is beaten up. Tomorrow they may assault us (judges) as well. Nobody will be safe"
"This observation was done in John Menezes' case, whose land was encroached and when his advocate Olav Albuquerque came for inspection, he was attacked," Chodankar said.
"Instead of taking action against the culprits, Rohan Khaunte led the morcha on police and pressurised them to arrest Albuquerque," he said.
He said that a Panchayat Secretary was used in this matter who complained that Albuquerque obstructed them. "Can two senior citizens attack a mob. Law and order has collapsed in Porvorim," He said, adding the High court has quashed the FIR against Albuquerque.
Chodankar said that police who threatened the Sarpanch have taken the name of Rohan Khaunte, an audio clip of which has become viral.
"Khaunte should come clear over this as the police officer has taken his name," he said.
Comment